MEXICAN TRAINING TALL SHIP "CUAUHTEMOC" VISITS LONDON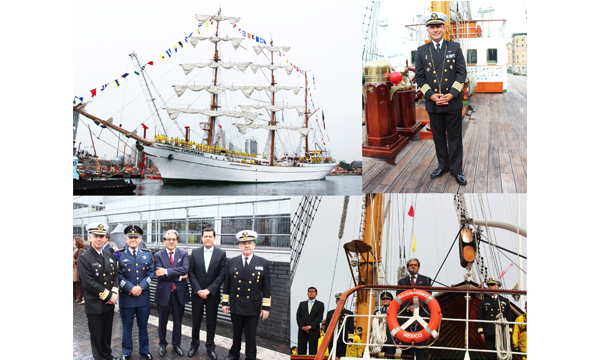 LONDON, United Kingdom, 7 June 2016. - The ARM Cuauhtemoc Sailing Tall Ship arrived today to the capital city of the United Kingdom of Great Britain.
Representing the Mexican Secretariat of Navy of Mexico, the boat also known as Ambassador and Gentleman of the Seas stopped at 4:00 PM at Thames Quay, London E14 9FE (Nearest tube Station : South Quay DLR) , with a crew of 252 sailors who were welcomed by  naval, local and diplomatic representatives, as well as members of the Mexican Community.
In this framework, the Secretary-General of the International Maritime Organization (IMO), Kitack Lim; Admiral Carlos Ortega, Deputy Permanent Representative of Mexico to the IMO, and Rear Admiral Jose Aguayo, Naval Attaché of Mexico were able to verify the compliance of the instruction "Iberian-Atlantic 2016" for the training tall ship, which has contributed to the formation of several generations of Mexican Navy officers, and which will be open to public –free admission- from 08-12 June, 2016, on the following schedule:
-Wednesday 8, 10:00 AM – 8:00 PM
-Thursday 9,    10:00 AM – 3:00 PM
-Friday 10 – Sunday 12, 10:00 AM – 8:00 PM
Upon arrival, most of the crew, including special guests and 30 women - commanded by Captain of the vessel Pedro Mata Cervantes - were in their positions, saluting in uniform, to port, maritime, military and civil authorities who welcomed them.
Leading a tour on board, tall ship commander Pedro Mata Cervantes explained how the ARM Cuauhtemoc Sailing Tall Ship has been carrying a message of peace and goodwill whilst visiting previously Panama, Colombia, Cuba, the U.S. and Canada, forging new cadets from the Mexican Heroic Naval Military College, who will increase their knowledge in nautical science during its cruise to the U.K.
Last year, the ARM Cuauhtemoc visited Portsmouth, as part of the celebration of the Dual Year with this country. In 2014 the Training-School Vessel, belonging to the Mexican Navy (SEMAR), was awarded in London for the second time with The Boston Teapot Trophy by the prestigious organization Sail Training International http://www.sailtraininginternational.org/ dedicated to the celebration of sailing competitions worldwide.
--oo000oo--