RECOGNITION TO THE AMBASSADOR BY THE CITY OF LONDON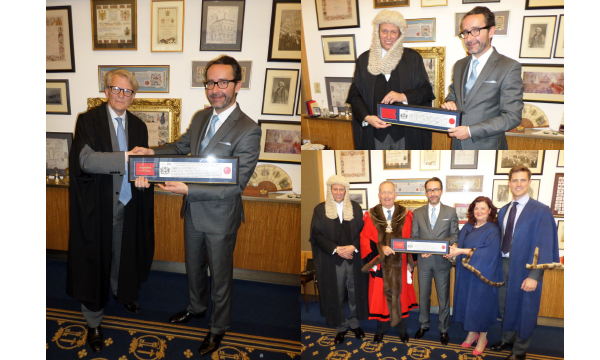 LONDON, United Kingdom, 3rd June 2016.- The Ambassador of Mexico, Diego Gomez-Pickering, received the Freedom of the City in one of the oldest surviving traditional ceremonies still in existence today, which is believed to have been first presented in the 13th Century in Guildhall.
As a recognition to his efforts to strengthen links between the City of London and different officials from the Government of Mexico, Murray Craig, representative of the Chamberlain's Court, presented the document in the ceremony known as the Freedom of the City.
Before the former Lord Mayor of the City of London, Alan Yarrow, the Chief Remembrancer, Paul Double, explained that the medieval term 'freeman' meant someone who was not the property of a feudal lord but enjoyed privileges such as the right to earn money and own land. Town dwellers who were protected by the charter of their town or city were often free – hence the term 'freedom of the City. From the Middle Ages and the Victorian era, the Freedom was the right to trade, enabling members of a Guild or Livery to carry out their trade or craft in the Square Mile.
Mr Double invited the Ambassador to sign the book as the youngest "Freeman" of the City of London, recalling that Admiral Nelson, Sir Winston Churchill, Princess Diana, J.K. Rowling and the Mexican Tenor Placido Domingo, among others, have received the distinction previously.
On his behalf and of the Government of Mexico, the Ambassador thanked the City of London for this courtesy –previously reserved to British and Commonwealth citizens- and particularly for being nominated by the former Lord Mayor Alan Yarrow, who last year achieved a working-visit to Mexico, under the framework of strengthening the bilateral relation with the United Kingdom, particularly in finance and investment.
Therefore, the diplomat applauded that the Lord Mayor of the City of London, Jeffrey Mountevans, accepted his invitation to participate in the inauguration, next September, of the business seminar known as "Mexico Day" in Mansion House.
---oo000oo---