TALENTED MEXICAN SINGER LILA DOWNS RECOGNISED IN THE UK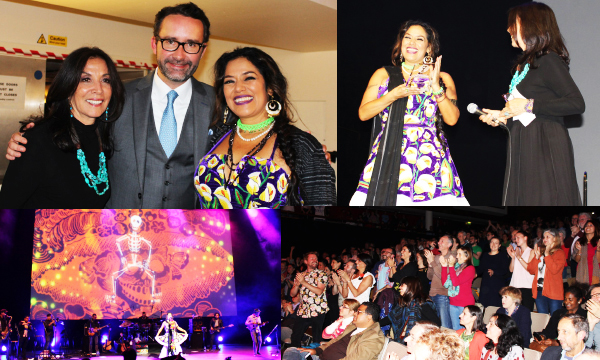 LONDON, United Kingdom, 2nd June 2016.- Mexican singer Lila Downs debuted last night at the Southbank Centre in this city, before an audience of more than a thousand people.
During her presentation at the Royal Festival Hall located in the south of the Thames, Lila Downs performed hits like "La Llorona", "Cucurrucucú Paloma" and "Mezcalito" at the rhythm of bolero, cumbia, blues, jazz and milonga.
Wearing a purple dress with printed white calla lilies, traditional Mexican rebozo, braids and flowers, Downs sang in Spanish, with fragments of Zapotec and Mixtec poems, but also ballads in English and dedicated the song "La Patria Madrina" "to a place called Mexico ".
Known for her activism on behalf of indigenous peoples of Latin America, the importance of roots, justice, equality and freedom, she also dedicated the song "Humito de Copal" "to all Latin-American journalists," and also as a tribute to those who have died "combating in the line of fire".
At the end of the concert, Lila Downs received from Olivia Harrison, widow of the former Beatle George Harrison, the recognition Music Awards 2016 of the British magazine Songlines as the best singer in America, for the album Bullets and Chocolate by Sony Music.
Before the Ambassador of Mexico, Diego Gomez-Pickering, the singer thanked the recognition and said to be satisfied with presentation in London of her new album "Bullets and Chocolate," which has won a Latin Grammy and, according to the British newspaper The Sunday Times, it is one of the best albums of the year.
---oo000oo---