MEXICO PARTICIPATES IN THE INTERNATIONAL DAY OF U.N. PEACEKEEPERS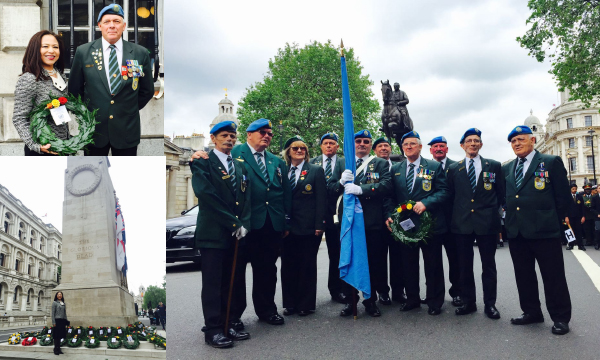 LONDON, United Kingdom, 26th May 2016.- due to the International Day of United Nations Peacekeepers, Mexico participated in the ceremony celebrated yesterday which was organised by the United Nations Association in the United Kingdom (UNA-UK), which paid tribute to the more than one million men and women that are part of the UN Peacekeeping operations, and where it was also honoured the memory of the Blue Helmets which had lost their life on the line of duty.
At the beginning of the event, David Wardrop, President of the UNA-UK in Westminster, gave a speech in honour of the more than 3,400 members of the UN peacekeeping operations who had lost their lives in the service of peace, followed by a prayer by Reverend Nadim Nasser, Director and Co-founder of the Awareness Foundation.
During the ceremony, diplomatic representatives of more than 92 countries, including Mexico, were escorted by girl students of the Grey Coat Hospital School for Girls and students of the Westminster City School for Boys to present a wreath at the Cenotaph, the most representative war monument in the United Kingdom, located at Whitehall in London.
Baroness Anelay of St Johns, Prime Minister's Special Representative on Preventing Sexual Violence in Conflict and Human Rights, was present to deliver the wreath on behalf of the UK's Government, as well as Air Vice-Marshal Malcolm Brecht, on behalf of the British Armed Forces.
In this regard, the representatives of the Embassy recalled that on 24th September 2014, in the framework of the 69th UN General Assembly, Mexican President Enrique Peña Nieto announced the participation of Mexico in the Peacekeeping Operations.
Mexico has participated in Peacekeeping Operations three times. The first and second ones with military observers: in the Balkans (1947-1950) and in Kashmir (border between India and Pakistan) (1949). The third one in El Salvador (1992-1993), where our country participated with 120 officers.
As part of the celebrations to commemorate the day, it was held the 14th Annual Conference for the International Day of the United Nations Peacekeeping Operations, organised by the UNA-UK and the Royal United Services Institute (RUSI). This conference got together diplomats, army officers and general audience in an expert's debate about the most important peacekeeping topics nowadays.
--oo000oo--