ACADEMIC EXCHANGE STRENGTHENED WITH SHEFFIELD AND LEEDS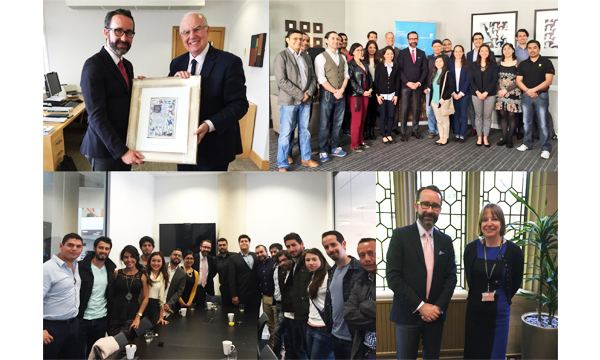 YORKSHIRE, England, 19th May 2016.- In order to strengthen academic cooperation with Mexican institutions, the Ambassador Diego Gomez-Pickering accomplished a working-visit to the Universities of Sheffield and Leeds, where he held meetings with University authorities, academics and Mexican students.
At the University of Sheffield campus, the diplomat was welcomed by Prof. Shearer West, Deputy-Vice Chancellor, who recalled the success of the current postgraduate programmes established between this institution and different Mexican universities as well as with the National Council of Science and Technology (CONACyT).
The Ambassador also had lunch with Prof. Wyn Morgan, Pro Vice-Chancellor for Learning and Teaching, and visited the School of Languages and Cultures, as well as the Engineer School, previous to a formal meeting with Mexican postgraduate students, which only in recent years had overall more than one hundred only in engineer and sustainability areas.
In the University of Leeds, which origins go back to the nineteenth century, the Head of Mission of Mexico was accompanied by the Director of the School of Idioms, Culture and Society, Dr. Matthew Treherne, during a meeting with representatives of this institution who are interested in increasing the academic exchange with Mexican universities, as well as with Mexican students and the Centre for Latin-American Studies.
In company of Prof. William Gale, Director of the Integrated Energy Research (CIER) he visited the Energy Building to afterwards visit the facilities of the School of Electronic Engineer, before meeting with Pro Vice-Chancellor, David Hogg and Sir Alan Langlands, Vice-Chancellor.
Gomez-Pickering emphasized the great opportunity that Mexican students in the UK have before them, country which currently is positioned as the first academic destination for Mexican scholarship holders studying a postgraduate, having surpassed the United States.
---oo000oo---