CHILDREN'S DRAWING CONTEST "THIS IS MY MEXICO 2016"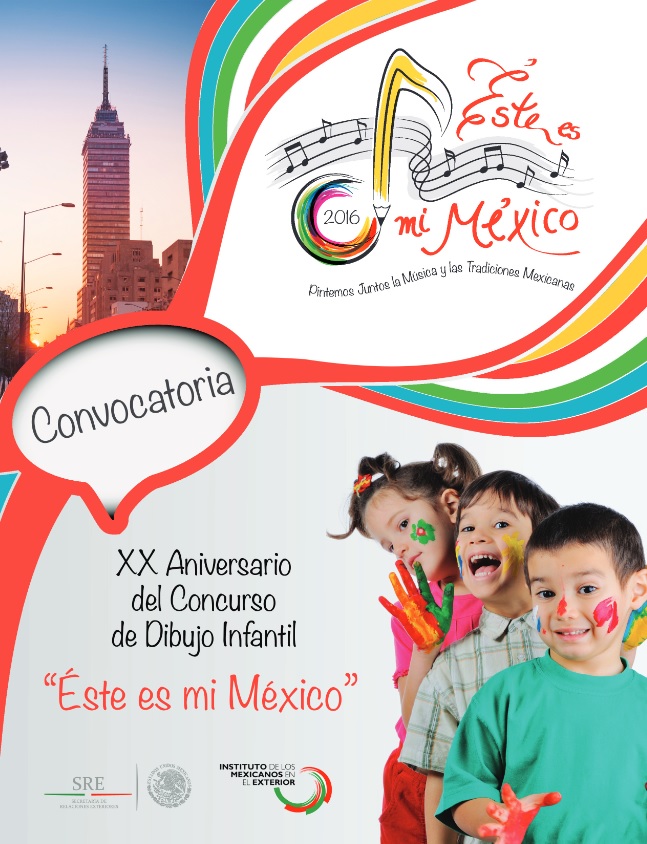 LONDON, United Kingdom, 17th May 2016.- Through its Consular Section, the Embassy of Mexico in the United Kingdom invites kids between 6 and 14 years old to participate in the 20th Children's Drawing Contest "This is My Mexico", called by the Institute of Mexicans Abroad (IME). 
Focused for the first time in teamwork, collaboration and harmony between children, the contest entitled: "Drawing Together Mexican Music and Traditions" requires this year the participation of minimum two children, according to the Official Announcement.
The contest promotes teamwork between Mexican children and from any other nationality living in the United Kingdom, having a chance to include their friends and classmates ideas about landscapes, stories, characters, customs, songs or traditions that they could know from Mexico.
To enter the contest, the children must elaborate a drawing in teams, fill-in the registration form included in the Official Announcement, paste it in the back of their drawing and take it –between 9:00 AM and 1:00 PM, Monday to Friday- or post it to the Consular Section of the Embassy of Mexico in the United Kingdom, located at 16ª Saint George Street, London, W1S 1FD. The deadline is Friday 30th September 2016.
For the drawings on paper, paperboard or square cardboard, 30 x 30 cm or 12 "x12" inches, paintbrush, pencil, acrylics, watercolours, crayons or any other material is allowed to be used. The drawings should include the signature of the authors at the front. The drawings which look copied, traced or done with an adult's help, may not participate in the contest. Incomplete drawings won't be able to participate, or those which do not include the Registration Form.
The results will be published on the website of the IME (www.ime.gob.mx) on 22nd November 2016.
PRIZES:
12 winners will receive a work of art by Mexican artist and sponsor of the contest, Emiliano Gironella Parra, a set of Mexican literature books, a diploma and a surprise present.

 

12 winner´s drawings and the 50 honourable mentions will be part of an itinerant exhibition which will be exhibited in Mexico and will also travel through the Consulates and Embassies of Mexico around the world.