PROMOTION OF NEW DESTINATIONS FOR BRITISH TOURISTS IN MEXICO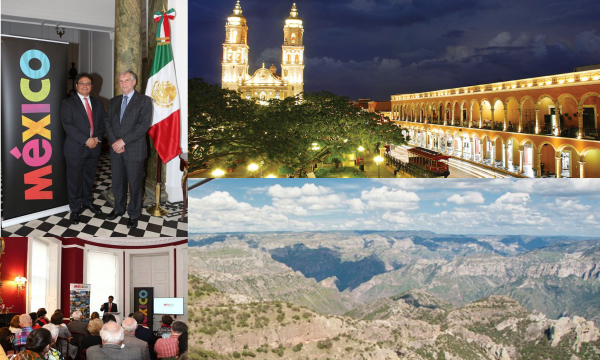 LONDON, United Kingdom, 11th May 2016. - In order to promote the increase of British tourism in Mexico and support new destinations, the Director of the Regional Office of the Mexican Tourism Board (CPTM), Vicente Salas, offered a conference at the Official Residence of the Government of Mexico in this capital city.
Before an audience of 60 people invited by the President of the British Mexican Society, Richard Maudslay, the representative of CPTM held and eloquent visual presentation of different destinations in the Mexican States of Campeche, Chihuahua and Tabasco.
During the Q&A session, at the end of the conference entitled "The Secrets of Mexico – Wonders Beyond the Normal Tourist Trails" the Mexican official recalled the increase of British tourism in Mexico, which only last year recorded an increase of 9.5% compared to 2014 – more than the double of the worlds' average of 4.3 per cent – registering the income of 477,300 tourists residents in the United Kingdom.
Salas mentioned the importance that the tourism sector represents to the growth of the Mexican economy, since only in 2015 managed to attract 32.1 million visitors from around the world, resulting in an equivalent of USD $17.4 billion, placing our country as the 9th most visited in the world.
---oo000oo---