THEME GARDEN INSPIRED IN MEXICO AT THE CHELSEA FLOWER SHOW 2017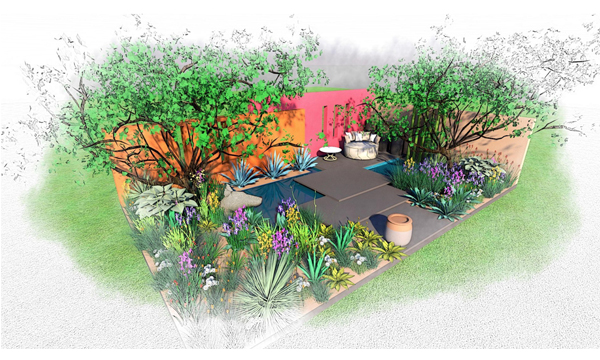 LONDON, United Kingdom, 5th May 2017. – Beneath a Mexican Sky garden, inspired by the work of Mexican architect Luis Barragan, will be featured from 23rd to 27th May 2017 at the RHS Chelsea Flower Show.
The garden, designed by British-Indian designer Manoj Malde, juxtaposes purples, oranges and reds to create a vibrant palette reflecting the dynamic work of Luis Barragan (1902-1988).
The spiky Mexican Agave plants, well known for their use in making tequila, are a key element that stands out in combination with pink, yellow and white flowers.  
In 2015 Mexico won a Gold Medal Award in the 2015 edition of the Show and two additional editions held in Edinburgh and Hampton Court Palace, with a garden inspired by the masterpiece creation of "Las Pozas", by the Scottish artist Edward James, in the town of Xilitla, in the Mexican State of San Luis Potosí.
The Surreal Pillars of Mexico -designed by Jon Wheatley- was then showcased in this most prestigious international horticultural event and was visited by HRH Prince Harry of Wales.
In 2015, Mexico's participation in the RHS Chelsea Flower Show represented one of the main highlights of the Mexico- United Kingdom Dual Year. Then and now, this event represents an ideal opportunity to share with the British public Mexico's rich and diverse cultural heritage.
Tickets are still available http://bit.ly/2pN4uN3
For more information and photographs please contact This email address is being protected from spambots. You need JavaScript enabled to view it. (0776 969 5250) or This email address is being protected from spambots. You need JavaScript enabled to view it. (07944 884177).
--oo000oo--