CHILDREN'S DAY TO BE CELEBRATED IN LONDON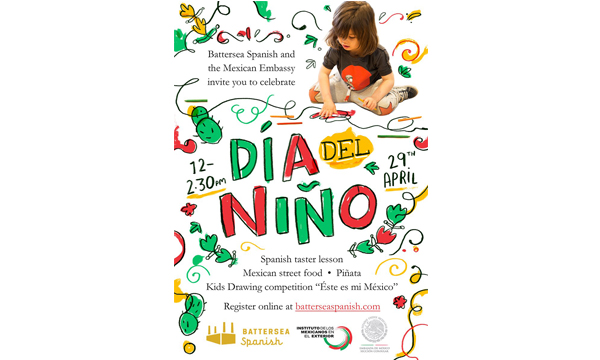 London, UK, 10th April 2017. – With the purpose of promoting the Spanish language and celebrate the Mexican tradition of Children's Day (Dia del Niño), the Consular Section of the Embassy of Mexico and Battersea Spanish School invite children from ages 4 to 11, to participate this Saturday 29th April 2017 to an access free event that will comprise different activities related to Mexico, such as Spanish lessons through games, a piñata and a children's drawing workshop.
The activities are aimed for Mexican children and from other nationalities who study Spanish or are interested in learning this language. The event will be held at the facilities of the Battersea Spanish School. Although the event has no cost, it is necessary to register through the following link, since it has limited access.
The drawings made during the event could be entered in the Children's Drawing Contest Este es mi México that the Institute of Mexicans Abroad (IME for its acronym in Spanish)  organises each year. The bases and theme for the 2017 edition will be announced in a timely manner to the children's community residing in the United Kingdom.
The Children's Day celebration at the Battersea Spanish School will allow members of the Mexican community in the United Kingdom to find alternatives to help their children preserve their Spanish language skills and strengthen their links with Mexico.
--oo000oo--