EMBASSY OF MEXICO PROMOTES EQUALITY AND GENDER PERSPECTIVES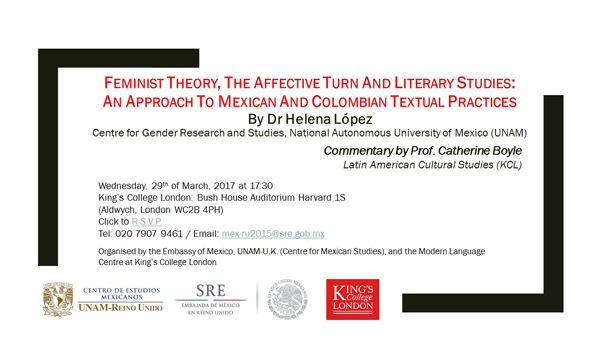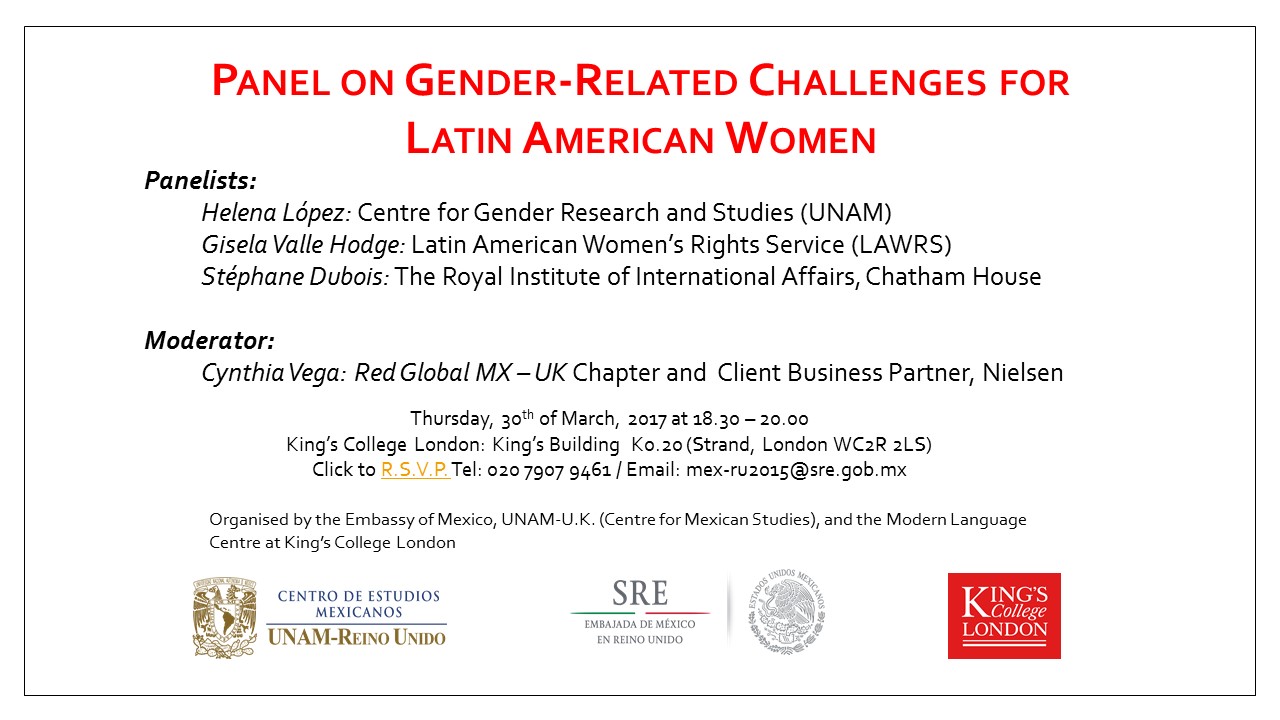 London, UK, 27th March 2017. – To promote gender equality and women's rights, the Embassy of Mexico is organising this week a lecture on literature and gender; a panel on gender organised for the Latin American community and a course on the importance of gender perspective for its personnel and Mexican Diplomats in the United Kingdom. 
As part of the celebrations around the International Women's Day, held on March 8th, Dr. Helena Lopez Gonzalez de Ordunafrom the Centre for Gender Research and Studies of the National Autonomus University of Mexico (UNAM), will give a lecture at Kings College London (KCL), on the 29th March at 17:30 on "Feminist Theory, the Affective Turn and Literary Studies: An Approach to Mexican and Colombian Textual Practices". 
Dr. Catherine Boyle of the Center for Latin American Studies at King's College will participate as a speaker and the public interested in attending can register at the following Eventbrite link. 
In the same educational institution, on Thurday, 30th March at 18:30 hours the panel "Gender-Related Challenges for Latin American Women" will be held- In which besides Dr. Helena Lopez- Gisela Valle from Latin American Women's Rights Service and Stéphane Dubois, of Chatham House will participate. Cynthia Vega, President of the Global MX Network, will act as moderator. Registration to this activity is available here. 
Both events will be carried out in coordination with the Centre for Mexican Studies in the United Kingdom, of the National Autonomous University of Mexico (UNAM). 
Finally, on Friday, 31st March from 15:00 to 17:00 hours, the Mexican Embassy will offer to its staff a workshop that will be useful for disseminating some basic concepts on gender equality and women's rights. 
The course will be divided into four parts: 1) sensitization, 2) fundamentals of gender theory; 3) international obligations in the area of women's rights; and 4) gender perspective in public policies, particularly in the Mexican Ministry of Foreign Affairs. 
Thus, the Embassy demonstrates the importance it pledges to the gender agenda and its institutional commitment to promote it amid its public servants as a personal obligation. 
--oo000oo--