MEXICAN EMBASSY PROMOTES ACTIONS FOR ASSISTANCE AND PROTECTION OF MEXICANS IN THE UNITED KINGDOM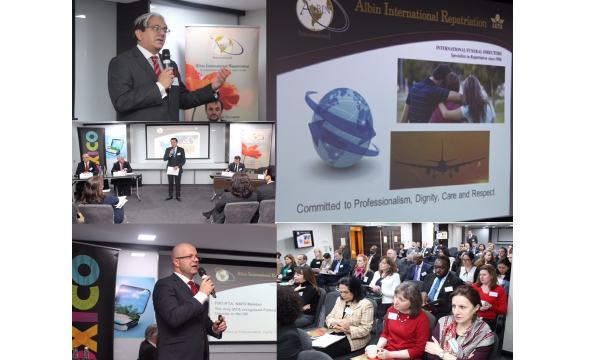 United Kingdom, 17th March, 2017.- With the purpose of reinforcing its actions of assistance and protection to the Mexicans in the United Kingdom, the Embassy in the UK, with the collaboration of the Consular Corps of London, held a Training Seminar on Consular, Legal and Immigration matters in London.
This seminar, for all accredited consular representations in London, had the intention to apprise its staff on matters such as the structure and operation of the Judiciary System in the United Kingdom, the potential changes in the immigration and labour matters of this country in the context of the forthcoming BREXIT, as well as the process of repartition of human remains of deceased foreigners in this country.
With the attendance of more than 80 consular officials from more than 50 countries from all regions of the world and 10 special guests between exhibitors, representatives of the UK judiciary, authorities and lawyers,  Minister David Najera, Chargé d' Affaires of the Embassy of Mexico recalled the importance that his diplomatic mission grants to the assistance and protection of Mexican nationals who reside in this country (about 12,000) as well as to those who visit temporarily as students or tourists that in 2015  totalled 183,000.
Before Joana Gaspar, President of the Consular Corps of London and Consul General of Portugal, the diplomat stressed that consular protection is one of the highest priorities for the Mexican foreign policy and that the consular network of Mexico is one of the most extensive and particularly the largest that exists from a foreign country (Mexico in the USA), which translate into the effective assistance for more than 170,000 Mexicans every year, all over the world.
The Secretariat of Foreign Affairs recognised the concept of protection of human rights and particularly the work of defending migrants in countries such as the US as its higher priority. This in order to prevent the violation of their rights or discrimination and to ensure judicial protection and assistance to their families, especially the minors.
Thus, he stated, the Mexican Government promotes among its representations the constant training for its consular staff, with the purpose of better knowing and understanding the law of each country and improving the quality of the assistance provided by consular officials to their fellow nationals abroad.
--oo000oo--