BRITISH INTEREST INCREASES IN THE AERONAUTICAL SECTOR OF MEXICO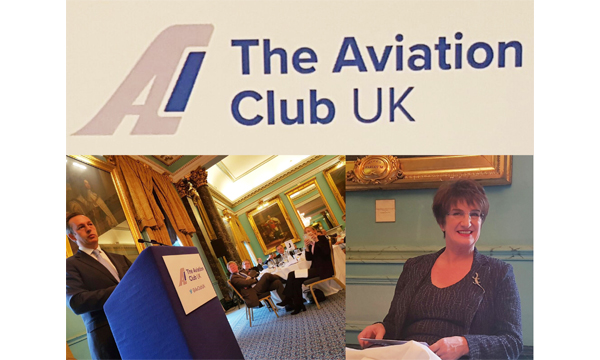 LONDON, March 10th 2017. -  With the purpose of sharing information about Mexico's aerial connectivity and as the 9th most important touristic destination in the world, the CEO of Aeromexico, Andres Conesa Labastida, hosted a conference at the Aviation Club UK, considered one of the most influential organisations worldwide.
In such meeting, which took place on March 8th, partners, representatives and executive directors of some of the most important aeronautical companies worldwide, listened to Conesa who stated that once the alliance with Delta Airlines –which acquired 49% of the shares of the Mexican airline- is consolidated, both will become the largest operator between Mexico and United States, therefore, entailing great opportunities for passengers, employees and shareholders. This was also endorsed by his counterpart Edward H. Bastion of the aforementioned American aeronautical company, who preceded on the podium.
In what constituted the first intervention of a company's representative of the aeronautical sector of Latin American at the UK Club of Aviation, Conesa itemised the growth of the aerospace sector in Mexico. He particularly referred to the investment of 7 companies in the Mexican state of Queretaro that employs more than 7,000 Mexican nationals and where the Canadian company Bombardier has five plants, one which is destined to the manufacturing process of the Learjet85 model.
The Mexican businessman also mentioned that after the incorporation of the aircraft Boeing 787-9 Dreamliner to its fleet, Aeromexico will start offering from April 2017 daily flights to Mexico City from Heathrow Airport. This will contribute to the increase the number of British tourist heading Mexico, which last year totalled in 513,800 Britons, and kept the United Kingdom as the 3rd largest market of foreign tourist, after United States and Canada.
When referring to the current economic environment of Mexico, Conesa recalled that the touristic sector of Mexico received 35 million international visitors in 2016, which delivers an economic stream of round USD $19.6 billion at a time when trade between Mexico and the United States is equivalent to USD$1.4 billion and USD$500 Billion a year.
The managing director of the UK Aviation Club, Jane Middleton, thanked the Mexican businessman for his speech, and recalled that since the foundation of her organisation, more than 200 CEOs of big companies, secretaries of States and opinion leaders have offered talks during their business luncheons, consolidating itself as a forum to promote and develop all aspects of civil aviation.
--oo000oo—