UK INCREASES SUPPORT FOR MEXICAN POSTGRADUATE SCHOLARSHIPS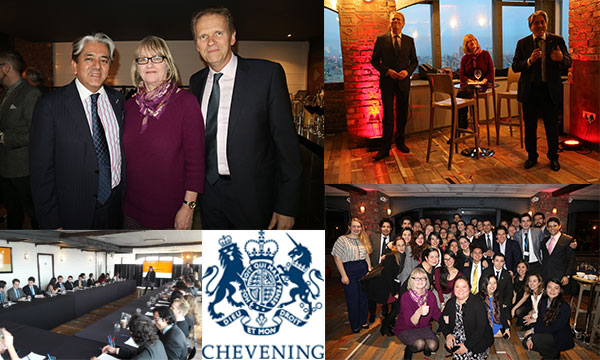 London, UK, march 8th, 2017. - Last Monday a meeting was held for the Chevening 2016-2017 scholars at the Skyloft Milltower where representatives from the Foreign & Commonwealth Office (FCO) held an academic workshop in the framework of their International Leadership Program.
At the event, held on March 6th, with the participation of the United Kingdom's Ambassador to Mexico, Duncan Taylor, Baroness Bonham-Carter of Yarnbury, Special Trade Envoy for Mexico from  Office of the Prime Minister, Theresa May; as well as Minister David Nájera, Chargé d' Affaires of the Mexican Embassy in the UK,  the Chevening scholars were welcomed and reminded about their responsibility with their scholarship in terms of contributing as new leaders upon their return to Mexico   trying to be an effective instrument of positive transformation in their respective communities.
Chevening is the UK government's global scholarship program, which is available to outstanding young professionals with leadership potential from more than 144 countries. These scholarships offer the possibility to carry out postgraduate studies in prestigious universities of the UK and Northern Ireland and receive direct funding from FCO and partner organisations.
The Chevening Scholarship program has been operating in Mexico since 1984 and has had over 1,500 Mexican scholarships recipients, including high-level representatives in different productive sectors of Mexico. This program grew from around twenty scholars to almost 100 students per academic year, underpinning the importance that United Kingdom grants Mexico to foster the academic excellence of its youth.
There are 82 scholars for this academic year coming from different academic institutions of the Mexican Republic, both from public and private universities. The master programs these scholars are studying cover areas such as art, social sciences, exact sciences and veterinary medicine.
--oo000oo--