MEXICAN RESEARCHER BASED IN THE UK IS AWARDED WITH AN HONORIS CAUSA DEGREE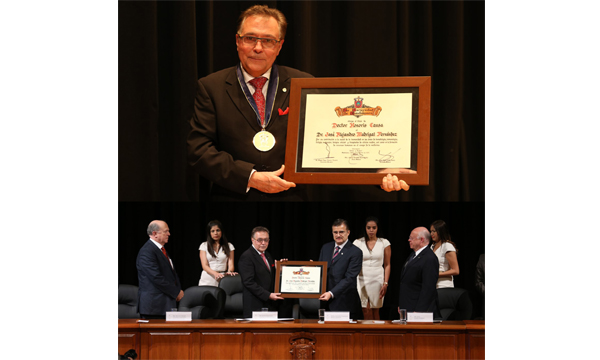 • Although walls are built, only the human condition can be improved through international collaboration: Alejandro Madrigal.
GUADALAJARA, Mexico, 24th February, 2017. - The University of Guadalajara (UdeG for its acronym in Spanish) awarded with an honorary doctorate or a Doctor Honoris Causa degree to Mexican physician Jose Alejandro Madrigal for his contributions to scientific research in the field of stem cell transplants which results have saved the lives of a considerable number of cancer patients.
In the solemn ceremony - held yesterday at the Teatro Degollado - the Vice Chancellor of the University, Itzcoatl Tonatiuh Bravo Padilla, explained that such acknowledgment was conferred to him for his valuable contribution to health through his scientific research at national and international level in the areas of hematology, immunology, molecular biology and cell therapy.
As part of the celebration of the XIX edition of the National Congress of Medicine Developments organized by the Civil Hospital of Guadalajara, the physician received for the first time a recognition of this type in his own country, since he has previously have awarded by two different academic institutions in Europe.
Madrigal Fernández is the scientific director of the Anthony Nolan Research Institute in England since 1995, Vice Chancellor for the Americas at UCL and was awarded with the Ohtli prize in 2007 by the Mexican government - Embassy - for the work he has done - voluntarily - to promote his country abroad and because he has shown the "way" to follow for new generations of Mexicans living abroad, and particularly in the United Kingdom, where he has supported many young people to study in prestigious universities.
Madrigal, who is considered a prominent member of the Mexican community, said that such distinction emphasizes the importance of international medical collaboration and that he was convinced that science has no borders. "Despite of walls, we can only improve the human condition through international collaboration."
Originally from Mexico City, Madrigal Fernández is a graduate of the Mexican National Autonomous University (UNAM) and has studied at institutions such as Harvard University and a PhD at the Imperial Cancer Research Fund in London, as well as Stanford University. He is currently a member of the National System of Researchers level III, author of more than 500 publications in scientific journals of international prestige, as well as writer of books and novels.
Pictures: Abraham Aréchiga
--- oo000oo ---