MEXICAN INNOVATION PROJECTS PROMOTED IN THE UNITED KINGDOM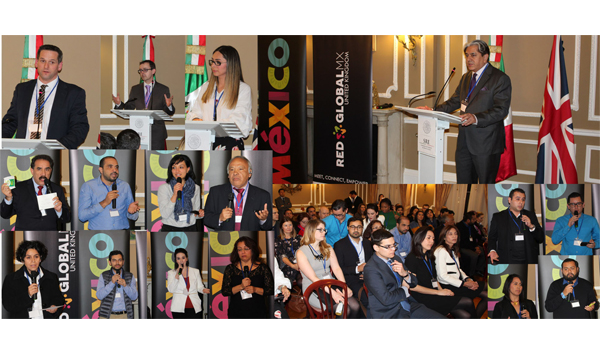 LONDON, United Kingdom, 23rd, 2017. - The Embassy of Mexico hosted last night a session in which 12 Mexicans, members of the Leaders in Innovation Program and fellows of the Newton Fund, had the opportunity to present before British representatives of different institutions their projects in the fields of energy and power, manufacturing and design, transport and mechanical, computing and communications, as well as medical and bioengineering and chemical and process, in order to catapult them towards granting patents and launch them to the market as consolidated products.
In the event coordinated by the Royal Academy of Engineering and the Mexican Talent Network, Chapter United Kingdom - which gather and promotes the work of outstanding members of the Mexican community in companies or prestigious universities in this country - the young Mexicans carried out individual explanations of their innovative proposals in order to raise their profile, visibility and eventually obtain support to develop them.
At the Official Residence of Mexico in the United Kingdom, Minister David Nájera, Charge d' Affaires of the Embassy, ​​recalled that the Federal Government has increased by 15% the budget for science and innovation, which will represent 1% of GDP in 2018.
In front of Baroness Bonham-Carter of Yarnbury, Special Trade Envoy to Mexico with the office of the Prime Minister, Theresa May, the diplomat explained that the Mexican National Institute of the Entrepreneur (INADEM for its acronym in Spanish) administers a specific national promotion fund for micro, small and medium-sized enterprises and promotes the orderly and systematic strengthening of entrepreneurship and innovation as main engines of a competitive economy.
Shane McHugh, who heads the ​​international affairs at the Royal Academy of Engineering, detailed the role of the Newton Fund in favour of entrepreneurship and the purpose of the Leaders in Innovation Program in which the Mexicans nationals who presented their projects, are currently participating.
Tim Hart from Oxford University Innovation explained the work of the institution and the main initiatives it is currently promoting.
Among the highlighted projects was the one presented by Dr. Edgar Ramón Raygoza, since it is a lubricant additive for extreme temperatures and pressures based on nanotechnology, which helps to reduce tool wear and increases the life of the lubricant, without current competition in the market and which could be applied either on the extraction industry or in the automotive industry.
Among the people who attended were British representatives, as well as members of the Mexican community in the United Kingdom, from the Mexican Chamber of Commerce in Great Britain (MexCC) and ProMexico, the agency that promotes Mexican trade abroad, the internationalization of Mexican companies and the attraction of foreign investment to our country.