BRITISH MEXICAN SOCIETY TALK ON MAYAN ART AND CIVILIZATION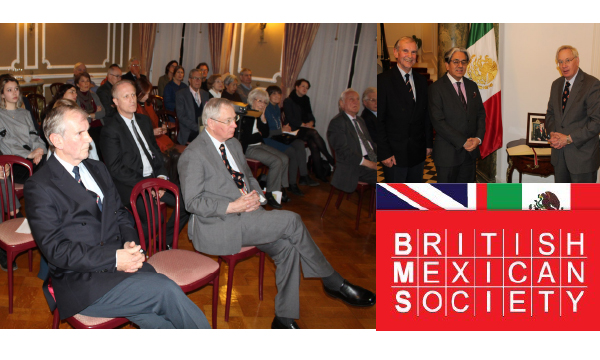 London, United Kingdom, 30th January 2017.- On Thursday, 27th January 2017, The British Mexican Society presented at talk by Archaeologist Norman Hammond entitled Maya Art and Maya Kingship: the Aesthetic of a Prehispanic Élite. The event was attended by the Society's Royal Patron, Prince Richard, Duke of Gloucester.
Professor Hammond talked about the meaning of a number of iconic images, photographs of which were projected onto a large screen. The audience at the Official Residence of the Government of Mexico comprised diplomats, academics, members of the Mexican Community and special guests.
During his talk, the British Archaeologist spoke about the popular ball game played by the Maya, with its possible deathly consequences, the complexities of the Mayan calendar and the importance which this enigmatic civilization placed on the underworld.  Professor Hammond is author of various books, including the classic  'Ancient Maya Civilisation' published by Cambridge University Press.
In his speech, Minister David Nájera, Chargé D'Affaires of the Embassy of Mexico, welcomed the content of the presentation as a means of spreading knowledge of the importance and reach of the historical roots of Mexican culture to the United Kingdom.  He also emphasized the message of appreciation for Mexico and the reciprocal friendship of the participants
Richard Maudslay, Chairman of the British Mexican Society said that the talk explained to those present the reach and importance of the millennia-old culture and the significance of various pieces which Professor Hammond spoke about, which represent more than three thousand years of history.
The Duke of Goucester, a cousin of HM Queen Elizabeth II and grandson of King George V, attended in his capacity of Patron of the British Mexican Society and signed the visitors' book of the Official Residence of the Government of Mexico.
The slides in the presentation brought back memories of the exhibition Mayas: Revelation of an Endless Time to some of those present.  That exhibition took place at the World Museum in Liverpool from 19th June to 18th October 2015 as part of the Mexico UK Dual Year, which itself was visited by his Royal Highness The Prince of Wales and his wife the Duchess of Cornwall.
--oo00oo--