MEXICAN UNDERSECRETARY OF FOREIGN AFFAIRS ACHIEVES A WORKING VISIT TO THE UK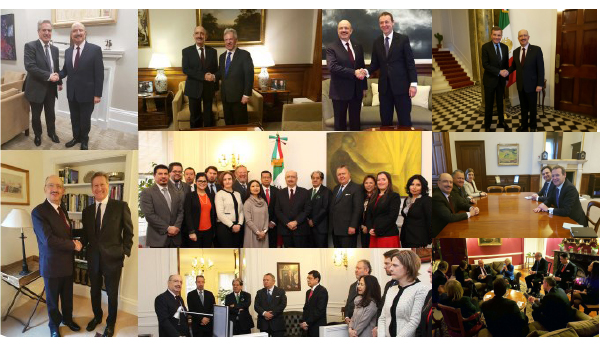 ·         The UK is a strategic partner for Mexico in Europe. The 6th trade partner amongst the EU countries and the 17th globally.
LONDON, United Kingdom, 26th January 2017.- From 24th - 25th January the Mexican Undersecretary of Foreign Affairs, Carlos de Icaza, achieved a working visit to the United Kingdom with the objective to strengthen the presence of Mexico before one of its main partners in Europe in order to diversify the economic, political and cooperation bonds.
Undersecretary de Icaza met with the Minister of State for Europe and the Americas at the Foreign & Commonwealth Office (FCO), Sir Alan Duncan, with whom he talked about the excellent moment the bilateral relationship is going through, which was benefited by the celebration of the Dual Year Mexico-UK in 2015. Both representatives agreed on the importance of strengthening the economic and political dialogue, particularly in the context of the separation of the UK from the EU.
Likewise, the Undersecretary held a meeting with Baroness Jane Bonham-Carter, Prime Minister's Trade Envoy to Mexico; representatives of the FCO; Members of the Parliament, Chris Matheson, Chair of the Parliamentary Group for Mexico and Baroness Hooper, Honorary President of the All-Party Parliamentary Group for Latin America; as well as with academics from LSE and the University College London (UCL). This meeting was intended to explore new projects to strengthen the relationship and to exchange points of view on different subjects of the international agenda.
The Undersecretary also met with David Jones, Minister of State of the Department for Exiting the European Union; Parliamentary Undersecretary of State at the Department for International Trade Mark Garnier and the Executive Director of the International Institute for Strategic Studies, John Chipman,  with whom he talked about international scenarios and prospective.
The UK is a strategic partner for Mexico in Europe. It is the 5th investor in Mexico, the 6th trading partner and the main tourist provider for Mexico amongst the EU countries. Likewise, at a global level it's the 17th trading partner and 8th investor. The UK is also the 2nd destination for Mexican students worldwide.
--oo00oo--