THE WINNERS OF THE "CAMARADAS" 2018-2019 ART COMPETITION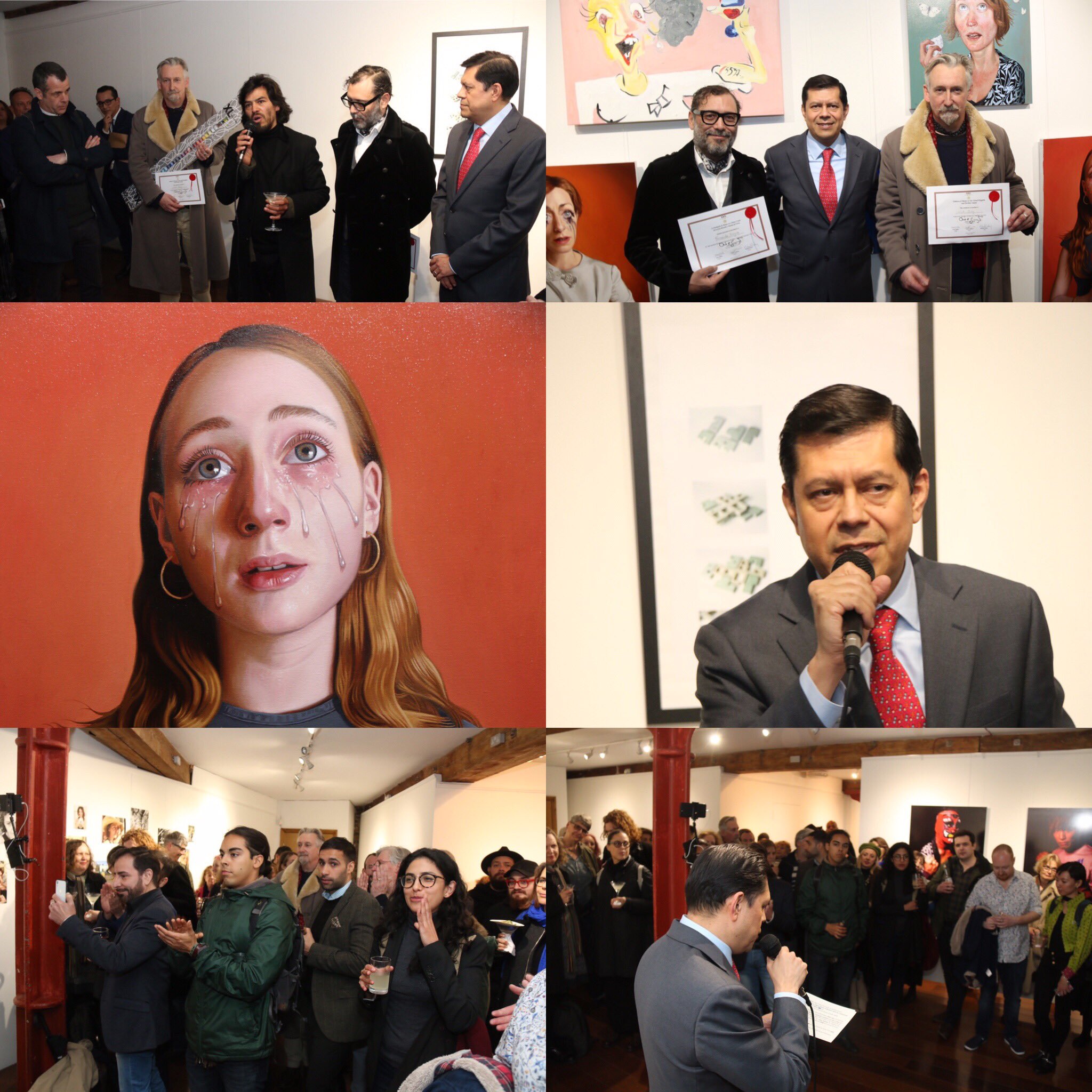 LONDON, United Kingdom, 14th March 2019. Mexican artist Fernando Holguin Cereceres and British artist Nicholas Jolly were named joint winners of the 6th annual Camaradas Art Competition, organised by the Mexican Embassy in the UK to promote cultural links between the two countries. 
Camaradas is an opportunity for two artists to become "comrades", or colleagues, working through a shared piece of work, learning from each other, complementing each other's talents.
Holguin and Jolly's piece entitled "Weeping and Laughing Mujeres" (weeping and laughing women) consists of eight paintings in oil on canvas and seeks to question the way in which society perceives representations of emotions. The project was created to invite audiences to reflect upon female feeling
This contest´s sixth edition attracted 13 entries from pairs of artists and two special participations, with a total of 28 artists exhibiting their work. The judging panel commented on the development in the quality of the work over successive competitions, consolidating Camaradas' position as an effective platform to showcase the talent and cooperation of artists from Mexico and the United Kingdom.
Judges Jenny White, Head of Visual Arts Program at the British Council, and Michael Asbury, Director at Research Centre for Transnational Art, Identity and Nation, UAL, together with Javier Calderón, curator and founder of the Chalton Gallery, congratulated the participants and thanked the Embassy for continuing to provide this platform for emerging Mexican and British Artists in London, known globally as one of the most competitive cities for art and culture.
The exhibition is kindly sponsored by the Mexican Agency for International Development Cooperation (known in Mexico as AMEXCID) and the Mexican Ministry of Foreign Affairs and can be seen at the Menier Gallery until the 16th of March 2019, allowing the work of both winners and participants to be enjoyed by a wider audience.
 High resolution images available in the following link:  https://flic.kr/s/aHskPCZwJR
--oo000oo--