Day of the Dead Festival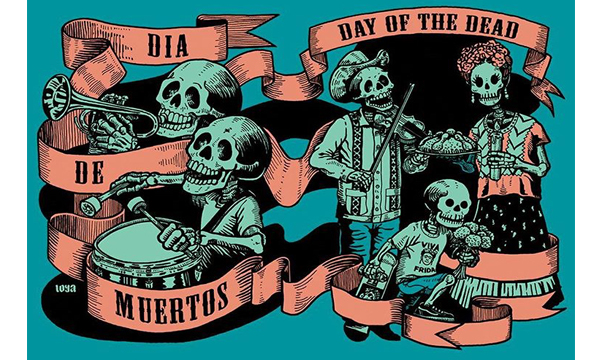 The Embassy of Mexico in the United Kingdom is pleased to announce that this year the traditional Day of the Dead Festival will take place on Friday, November 2 from 5.00 p.m. to 10.00 p.m., at the Victoria and Albert Museum (V&A), Cromwell Rd, London, SW7 2RL, in the framework of our collaboration around the exhibition Frida Kahlo: Making Herself Up.
Join us in this celebration of Mexico's Day of the Dead to enjoy a programme of activities for all ages, including music, folkloric dance, performing arts, Mariachi, workshops, public costume competition (guests are invited to take fashion inspiration from Frida Kahlo and "La Catrina"), Mexican bingo (Lotería mexicana), and face painting (pinta caritas).
Mexican artist Humberto Spíndola will create the altar dedicated to "Frida Kahlo and Friends" at the Raphael Gallery, with one of the greatest treasures of the Renaissance in the backdrop. Guests will be welcomed at the main entrance in the museum by a personification of "La Catrina" —a popular Mexican character that represents death— in a unique outfit made entirely on paper by the same artist.
For details, download the full programme or visit the website here.
Note: The Day of the Dead Festival is free and does not include entrance to the exhibition, for which a separate ticket must be purchased.
When?
Friday 2 November 2018.
5-10 pm
Where?
Victoria and Albert Museum (V&A), Cromwell Rd, London, SW7 2RL
Website: https://www.vam.ac.uk/event/XWnaxOv0/day-of-the-dead-festival-2018