CHILDREN´S DRAWING CONTEST 2018 "ESTE ES MI MÉXICO"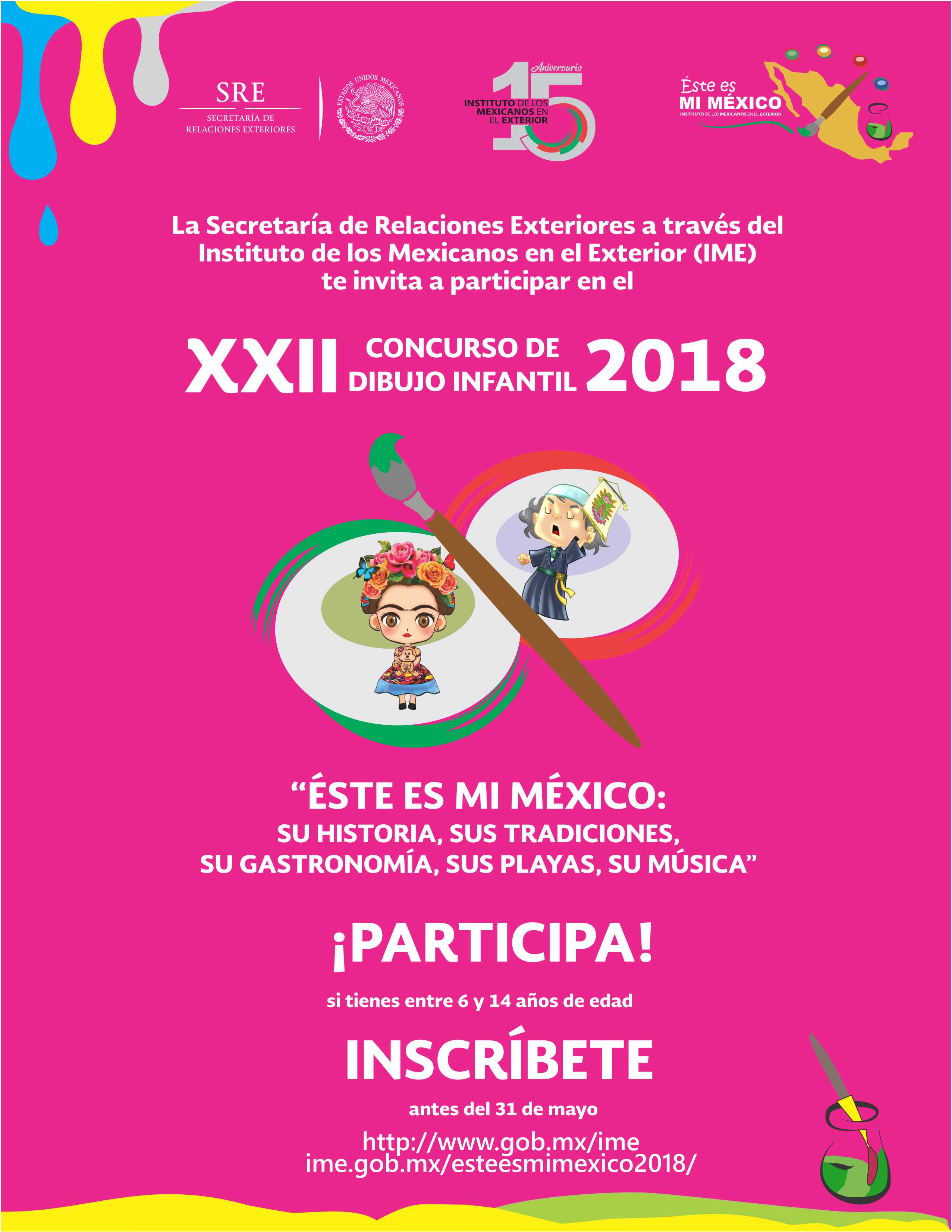 LONDON, United Kingdom, January 24th 2018. – Mexico´s Secretariat of Foreign Affairs through the Institute of Mexicans Abroad (IME) invites children between 6 and 14 years old to participate in the XXII Children´s Drawing Contest "Este es mi México" with the subject: "History, Traditions, Gastronomy, Beaches, Music".
This year's edition of the contest aims to convene all children to learn and draw about Mexico, its extraordinary history and millennial traditions, its renowned gastronomy and the captivating sights that attract tourists from around the world.
Every year thousands of children from around the world participate in the competition 12 winning entries and 50 honourable mentions will be selected and will take part in the itinerant exposition which will be inaugurated in Mexico City and promoted through México's Consulates and Embassies abroad.
To participate, interested children need to create a drawing (with brush, pencil, acrylics, watercolours, crayons or other materials), complete the Registration Form, and paste it on the back of their entry (cardboard 30cm x 30cm or 12" x 12") and deliver it to the Consular Section of the Embassy of Mexico (16ª Saint George Street, London, W1S 1FD) between 9 AM and 1:00 PM, Monday to Friday, before the deadline (31st May, 2018).
AWARDS:
The 12 winners will receive a diploma and a surprise gift, whilst the 50 drawings awarded honourable mentions will receive a diploma. The 62 selected drawings will be published in the IME 2018 calendars.
The results will be published on IME´s websites: http://www.ime.gob.mx/esteesmimexico2018/ and www.gob.mx/ime on 29th June 2018.