MEXICAN STREET ART IN LONDON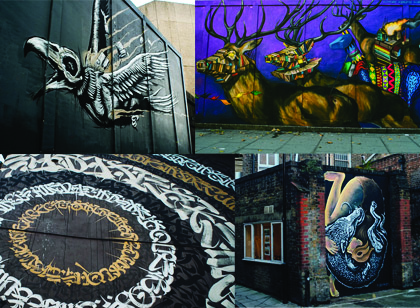 LONDON, United Kingdom, 24th November 2015.- As part of the cultural programme of the Year of Mexico in the United Kingdom, five Mexican artists of the so-called street art, were invited so they can share their pop art vision on walls and public spaces all over London.
Throughout colourful designs, reflecting sometimes their cultural identity, Mexican artists Acaro, Libre, Mazatl, Fusca y Said Dokins demonstrated in some streets of London, including Shoreditch (High St, London E1 6HU) that street art, it's not just decoration, but in fact it can visually configure a colourful pictorial tradition with undeniable value.
These urban neo-muralists were invited to work in London during November, where they coincided with other artists such as Spaik (Israel Guerra); Cix (Antonio Tiana) from the Mexican state of Oaxaca, and with muralist and architect from Tijuana, Libre Hernandez, who moulded their personal interpretation of pre-Hispanic art through a parallel cultural project entitled MURAL.
The phenomenon of urban art in this city also known as street art, as in other of the largest cities in the world, has earned a position in the British market. Today street art is accepted worldwide as public art and graffiti is the most popular street art style among all.
In the case of Mexican artists, their style is peculiar and very different from the European, starting with the number of colours used and making a remarkable difference from the well-known works of classic Mexican artists David Alfaro Siqueiros and Diego Rivera, among others.


--oo00oo--