MEXICO AND THE UNITED KINGDOM PROMOTE HIGHER EDUCATION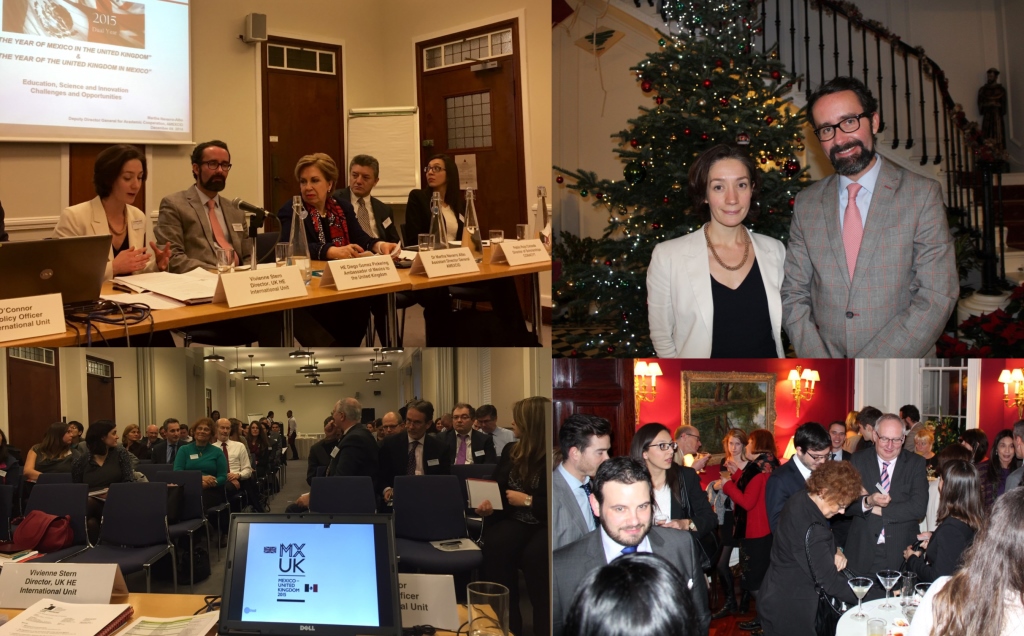 LONDON, United Kingdom, 10th December, 2014.- The main academic institutions of the UK and Mexico endorsed yesterday its commitment to promote and  coordinate programs and activities within the framework of the Year of Mexico in the United Kingdom and the Year of the UK in Mexico.
The event organized by the UK Higher Education International Unit, headed by Vivienne Stern, registered the attendance of the representatives from the most important British universities, demonstrating the growing interest in Mexico and binational educational programmes.
From the Mexican side, Dr Martha Navarro Albo, Director of Academic Cooperation of the Mexican Agency of International Cooperation for Development (AMEXCID); Pablo Rojo Calzada, Director of Scholarships from  National Council for Science and Technology (CONACyT), and Brenda Galaviz, Director of International Relations from National Association of Universities and Institutions of Higher Education (ANUIES), exchange points of view with British counterparts to increase exchanges and cooperation, in accordance with the level of interaction achieved in our bilateral relationship.
Ambassador Diego Gomez-Pickering recalled that precisely the purpose of the Dual Year is to promote a better understanding between our societies and, on the side of the Government of Mexico, present to British society the diversity of Mexican cultural heritage and historic richness, showcasing Mexico as an exceptional destination for trade, investment and tourism.
He highlighted the upcoming signing of bilateral agreements of Higher Education, Mutual Recognition of Qualifications and Degrees; conferences about Mexico at various universities and the promotion of Newton Fund, designed to support research and innovation through the training of scientists and researchers.
The Mexican diplomat said that due to the quality and tradition of its academic institutions and the richness of its culture, the UK remains as the second destination worldwide for Mexican students with scholarships, who enrol themselves in educational programs at the college level or graduate.
--oo00oo--