MEXICO – UNIVERSITY OF OXFORD INTERNSHIP PROGRAMME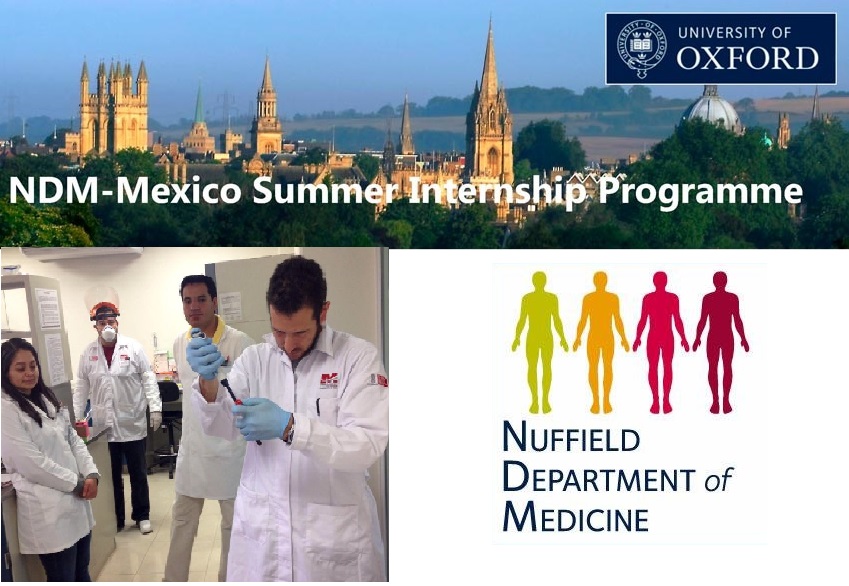 OXFORD, England, 11th February 2016. - The Nuffield Department of Medicine (NDM) of the University of Oxford offers opportunities for summer internships to undergraduate and Masters Students from Mexico in the science and medicine areas.

The programme NDM-Mexico Summer Internship Programme 2016 is open to outstanding students willing to work in a laboratory environment with an Oxford University Principal Investigator (PI) and their team in the Nuffield Department of Clinical Medicine for a period of approximately eight weeks (July and August).

Students interested in the scholarship with a value of £3,000.00 have to submit the on-line application before 26th February in order to get covered the travel and living costs for a two-month internship in a departmental research laboratory in Oxford.

Nuffield Department of Medicine officially announced its website NDM-Mexico as well as its twitter account @NDM_Mexico which will host the research on Mexican Emerging and Neglected Diseases (MEND).

Students interested in more information and other activities of NDM-Mexico visit the link About NDM-Mexico as well as its Mision, MoUs, Research Areas, Projects, Sites of Research and Events.

It noteworthy to mention that NDM has recently created a research programme to respond to the Zika virus.

To get more information visit the website http://www.ndm.ox.ac.uk/mexico/home.

---oo000oo---