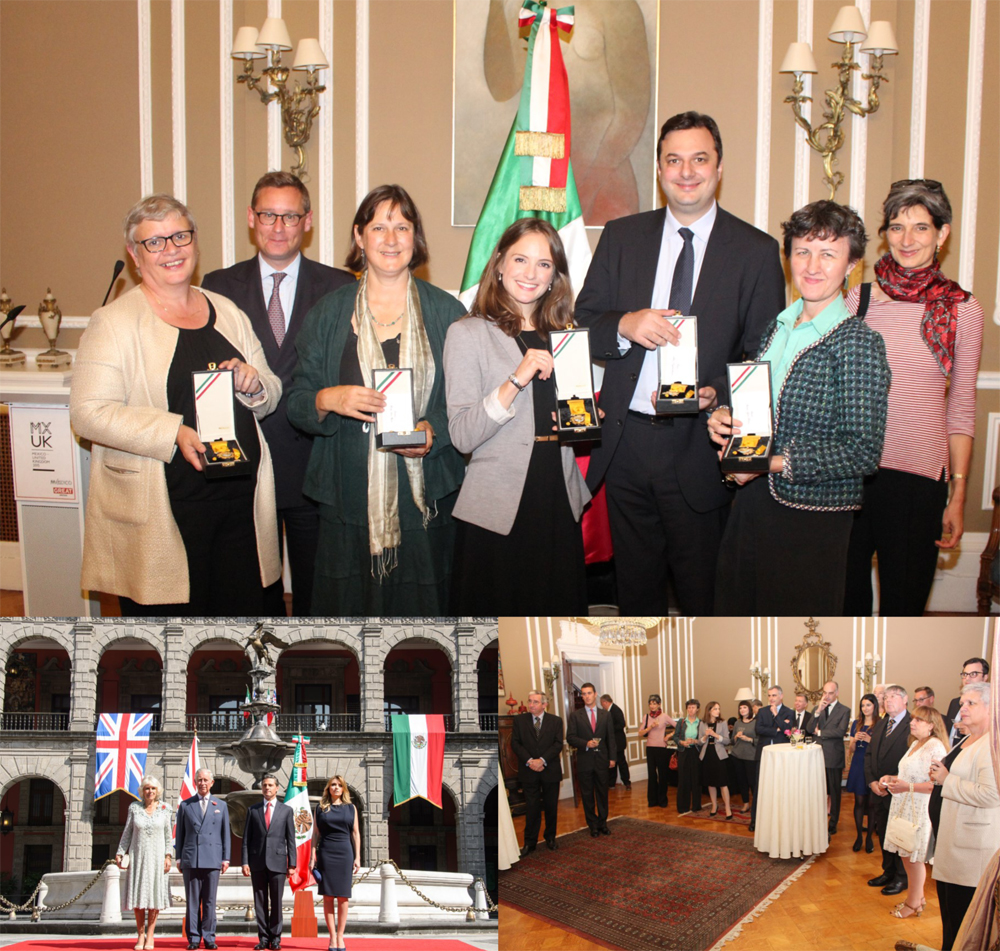 TRH THE PRINCE OF WALES AND THE DUCHESS OF CORNWALL AWARDED WITH THE MEXICAN ORDER OF THE AZTEC EAGLE
LONDON, United Kingdom.- Their Royal Highnesses The Prince of Wales and The Duchess of Cornwall have been awarded the Mexican Order of the Aztec Eagle (OMAA, for its acronym in Spanish) in appreciation of their decisive support for the State Visit of the President of Mexico Enrique Peña Nieto to the United Kingdom from 3rd to 5th March
Following their support for the State Visit and in celebration of The Dual Year between Mexico and the United Kingdom, on 9th September the Ambassador of Mexico Diego Gomez-Pickering delivered to Her Majesty's Marshal of the Diplomatic Corps, Alistair Harrison, the Sash of Special Category distinctions for HRH The Prince of Wales; and the Sash Category for HRH The Duchess of Cornwall.
The Ambassador also requested the Marshal to deliver the Sash of Special Category to HRH The Duke of Gloucester, and to The Lady Susan Hussey, Lady-in-Waiting to The Queen.
The Sash Category was also awarded to; The Duke of York, The Countess of Wessex; The Duchess of Gloucester and to The Viscount Brookeborough, Lord-in-Waiting to The Queen.
At the Official Residence of the Government of Mexico the Ambassador welcomed the  incredible strength and warmth in  the bilateral relationship and awarded distinctions to representatives of the Foreign and Commonwealth Office, led by Kate Smith, Director for the Americas, who was rewarded with the Plaque Category.
Additionally the Ambassador awarded the Venera category to staff in the Royal Household including Alexander de Montfort, Senior Secretary to the Lord Chamberlain's Office; Captain Thomas Tollemache, Assistant Equerry; and Michael Jephson, Secretary, Master of the Household's Department.
In total 14 British citizens were awarded with the Mexican Order of the Aztec Eagle including in the Insignia category, Sheila O'Connor, Head of Visits in the Protocol Directorate and Alan Gogbashian, Head of the Caribbean, Central America and Mexico Department at the FCO.
It is noteworthy to recall that the government of Mexico awarded Her Majesty The Queen with the Mexican Order of the Aztec Eagle, in Collar category, in 1973.
--oo00oo--