FIRST EDITION OF "TEQUILA TALKS" CELEBRATED IN LONDON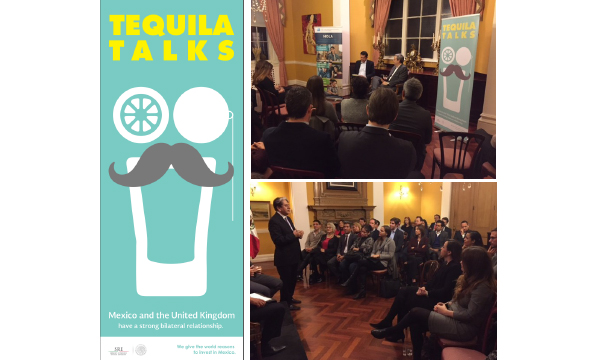 LONDON, United Kingdom, 6th December 2016.- In order to strengthen the cohesion with the Mexican community, the Embassy of Mexico organised the first edition of the conference's round "Tequila Talks: Meet a Mexican".
Minister David Najera, Chargé d' Affaires of the Embassy of Mexico, explained that "Tequila Talks", will be a series of talks, celebrated in a relaxed format without the formalities  of a solemn conference, in which remarkable Mexicans will be able to share personal and professional experiences with Mexicans living in the United Kingdom.
The diplomat welcomed Rafael Marquez, Executive Vice President of American Express in the United Kingdom, as the first speaker for the "Tequila Talks" in London, who spoke in a very eloquent way how it was that he reached one of the highest management positions in that transnational company, after living and growing in Mexico City, where he graduated from the Universidad Panamericana.
In the first of a series of talks or Tequila talks, for Mexicans, celebrated without the formality of a conference, Marquez convinced himself that like him, many Mexicans have the ability to adapt to constant change inherent to current times without fear to professional or academic failure.
Before a large audience who was invited to taste a sip of tequila during the conversation -finishing with a Q&A session- Marquez referred to the importance of cohesion among members of the Mexican community and recalled that he had personally promoted the creation of the Hispanic Origin & Latin American Employee Network (HOLA) within the company.
The event was also useful for several members of the Mexican community to get to know with each other, and to exchange contacts and future promotional projects of Mexico. This community has a diversity of regional and professional origins, as well as differences in ages and marital status, factors that make the integration of the Mexican diaspora different from, for example, our nationals in the United States. This format seeks to generate integration through professional linking and common interests.
Among the guests were distinguished members of the Mexican community such as Leticia Cabral, Vice President of the Talent Network, United Kingdom Chapter; Elizabeth Baquedano, Professor at the Faculty of Social Sciences and History of University College London (UCL), as well as postgraduate students from different universities of the United Kingdom, entrepreneurs, and Mexican executives of different international companies.
--oo000oo--