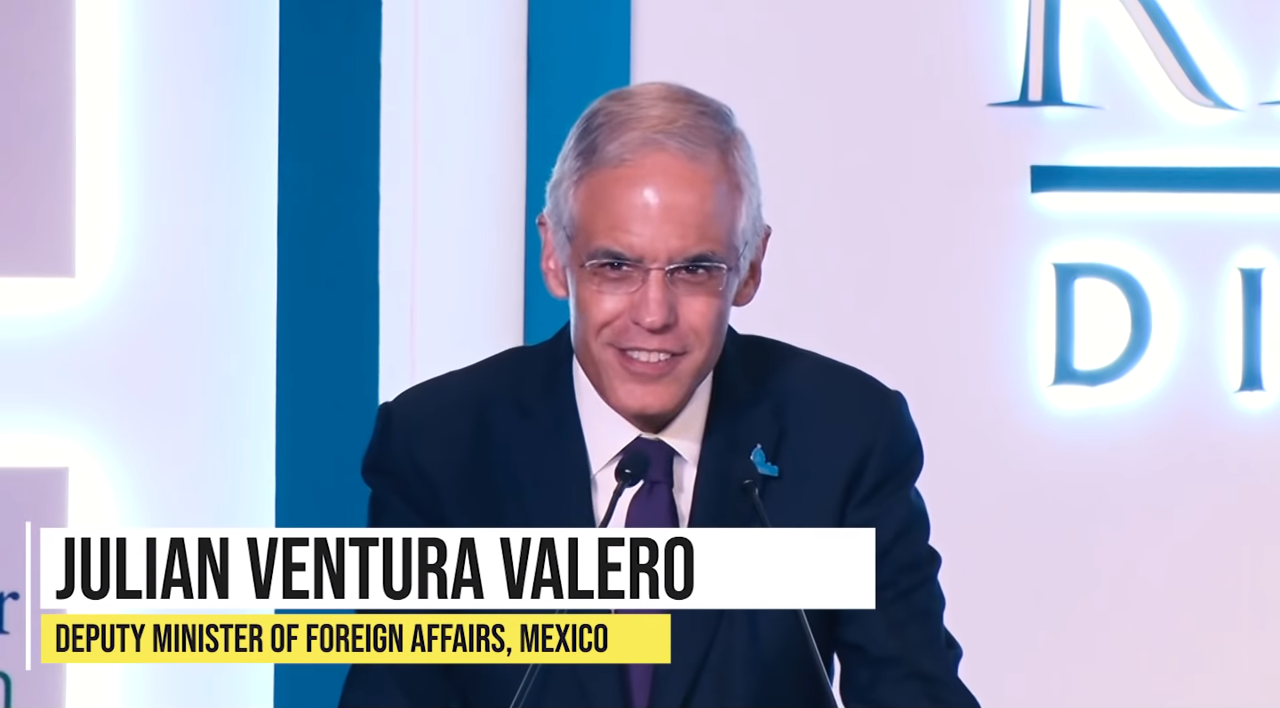 Mexico's Deputy Secretary of Foreign Affairs is first high-level Latin American government official to speak at prestigious Raisina Dialogue
Jan 23rd, 2020
The Deputy Secretary of Foreign Affairs of Mexico, Ambassador Julián Ventura, had the opportunity to be the first high-level Latin American government official to give a speech at the prestigious geopolitics forum Raisina Dialogue 2020.
Speaking during the Foreign Secretary's dinner, within the framework of the 5th edition of Raisina Dialogue, India's flagship global conference engaging with geopolitics and geo-economics, jointly convened by the Ministry of External Affairs, Government of India and the Observer Research Foundation (ORF), Ambassador Julián Ventura focussed on the topic "Old lessons for a new era: the value of collective action. A view from Latin America".
The key points of his speech addressed:
The strong relationship and growing ties between Mexico and India.
Latin American viewpoint on the challenges to global governance and their link to inequality and lack of inclusion.
What are the "old lessons that must be revaluated if we are to successfully navigate the Alpha Century?"
Challenges posed by climate change, migration, sustainable development and corruption.
Progressive dimension of trade agreements on behalf of salaries, regional development and the environment.
Progress to address global governance challenges and to strengthen the rules-based international order.
Reiterating the strong relationship and growing ties between Mexico and India, marked by growing cooperation and frequent consultations in both countries, evident from the fact that it was his second visit to India, in just over three months, Amb. Ventura called attention to the strong and rapidly expanding economic ties and a positive working relationship in multilateral organisations.
Highlighting the Latin American viewpoint, Mexico's Deputy Secretary Julián Ventura provided the perspective from a country which is also an integral part of the North American market, the world's largest regional economy. Underscoring the focus of the Raisina Dialogue on important geopolitical trends, regional flashpoints and pressing global challenges, Ambassador Ventura, stressed on the geopolitical relevance of Latin America due to 33 countries, including three G20 economies, with over 650 million people and a combined GDP that is similar to that of India and ASEAN put together.
In summarising, Deputy Secretary Julián Ventura concluded that no country can generate better local conditions in isolation, and it is in everyone's national interest to generate collective action on a broad range of issues, to put forward a political discourse both at home and abroad. The challenge belongs to everyone and everyone must do their part to address the global challenges.