Cultural relations between Mexico and India
Mexico, as India, has an extraordinary natural and cultural richness with deep historical roots and a geography as vast as it is diverse. Mexico's total area covers 1,972,550 square km and has a 9,330 km coastline. It is the fourth country with the most biological diversity and has the largest number of Spanish speakers, 126 million, of which about 8 million also speak one of the 68 indigenous languages. Like India, Mexico is the cradle of an ancient civilization (accounting for 35 UNESCO World Heritage sites) and, simultaneously, an amalgam of different influences and a country open to the world, to innovation and to creativity.
Culture has been one of the backbones of the diplomatic relations between Mexico and India: exchanges of writers, painters, dancers and artists have been continued and strong. Even as the diplomatic relations between the two countries were established in 1950, our cultural ties go long back to mid-sixteenth century.
Historical connections
Between 1565 and 1823, the Manila Galleon the longest commercial maritime route in history linked Asia and America through Manila, Philippines and Acapulco, Mexico. The ships were full of Indian products: textiles, cinnamon, pepper and clove, fruit trees such as mango, tamarind and coconut; and around 80% of the goods shipped back from Acapulco to Manila were from the Americas - silver, cochineal, seeds, sweet potato, chilies, tobacco, chickpea, chocolate and cocoa, watermelon, vine and fig trees.

Reception of the Manila Galleon by the Chamorro in the Ladrones Islands, ca. 1590" Códice / Codex Boxter Source: WikiMedia Commons
Along with the goods that were traded in the Manila Galleon, people from India and other places of Asia were displaced from their homes and taken to the Americas. Many of those were Indian women who were placed in wealthy families and convents in Mexico City, Puebla and other affluent cities of New Spain. Legend has it that one of these women was Catarina de San Juan or the Indian Bhakti poet Meera, a self-proclaimed princess, who after an incredible odyssey from the beaches of her father's small kingdom in Gujarat, was brought to Mexico and positioned to work at Santa Clara's convent in Puebla. She adopted the Catholic faith with such fervor that she became widely known for her religious visions and ecstasies. The fact that she had accepted Catholicism so enthusiastically despite being born into another religion made her an exemplary case.
In our popular culture, only the memory of her garments endured. Her way of dressing shaped the fashion that eventually became the national Mexican dress, la china poblana. This shows the importance of the textiles and other materials brought by the Galleon for more than two centuries that included textiles, embroideries, and colored beads (chaquira) required for the "China poblana"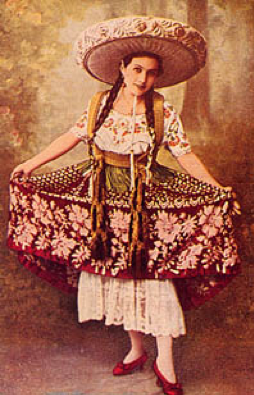 dress. Since the Colonial era, Asian textiles had a deep influence in the popular garments. Even today it is amazing to see the similarities in design and color in both textile traditions.
The china poblana dress is attributed to Catarina de San Juan, although it certainly incorporates elements from the mix of  cultures during three centuries of Spanish rule and one of independence. Source: WikiMedia Commons.
20th century exchanges
At the beginning of the 20th century various contact zones were created in the U.S. where the Mexican and the Indian cultures mingled. The restrictive migration policies of the U.S. pushed solidarity between the Indian and Mexican migrants that had settled in California and Texas and mainly worked in the agricultural fields. Recently, scholars in US are studying the rise and decline of a Punjabi-Mexican community that was composed of around 400 marriages, mostly Mexican women with Sikh men.
Pandurang Khankhoje, a founding member of the Ghadar Party who attempted an armed insurrection against the British during the First World War arrived to the U.S. in 1906 where he enrolled in the University of California as a student of agriculture and came in contact with Indian agricultural migrants and Mexican revolutionaries. Reminded of these meetings later in 1924 and to avoid the British police post insurrection, he sailed for Mexico as an exile. He was invited to teach at Chapingo, the National School of Agriculture, where he met many important political figures and intellectuals. He is portrayed in the Diego Rivera murals.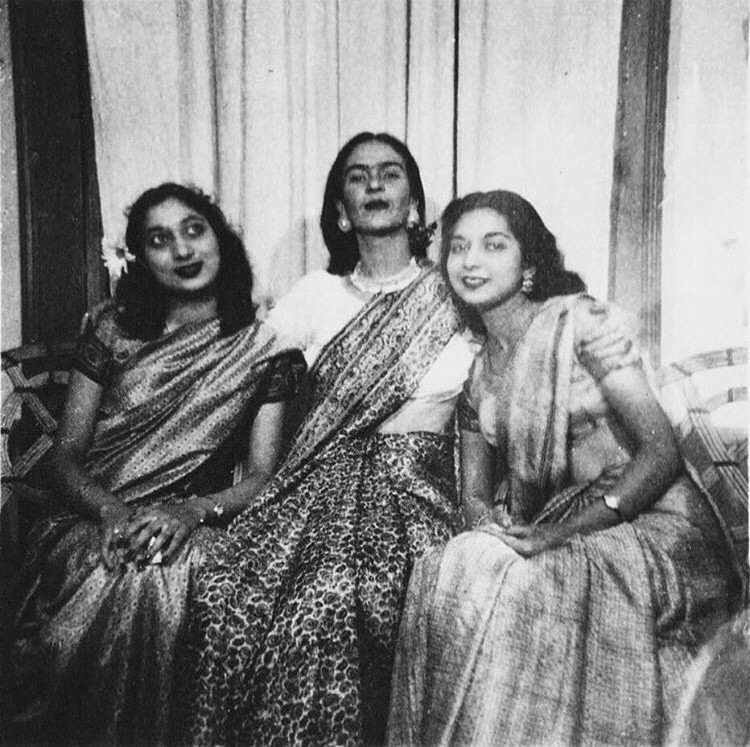 It was also in the U.S. that José Vasconcelos, the first Minister of Education of Mexico was acquainted with the Indian scriptures, particularly Gita and became fascinated by Indian history.  He wrote "Estudios Indostánicos" (1920), that along with the Gita, became a textbook for the new education system after the Mexican Revolution.
The Mexican Revolution and the Swadeshi Movement shared common demands and aspirations: a working-class national political platform, an agrarian reform embedded in traditional land uses, for a recovery of our "indigenous" or non-Western traditions, and a deep democratic aspiration.
 Renowned Mexican artist Frida Kahlo wearing a sari, an Indian drape, along with Nayantara Sahgal (R) and her younger sister, Rita Dar Casa Azul, Mexico City, 1947. Image from Borderandfall Instagram post.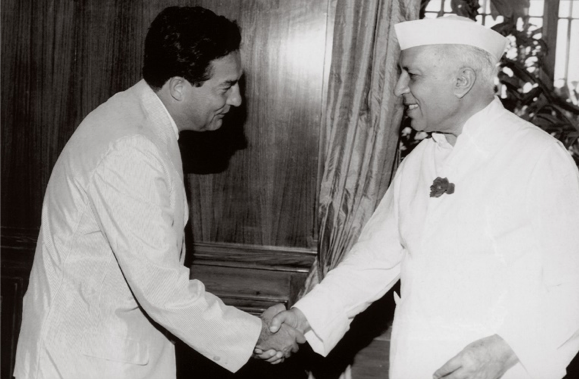 Perhaps one the most prominent cultural exchanges between Mexico and India can be attributed the eminent Mexican poet, Nobel Laureate 1990 and the Ambassador of Mexico to India between 1962-68, Octavio Paz, is an inexorable figure in the cultural dialogue between the two countries. Paz first came to India in 1951 as an attaché and met with many Indian writers and artists including the great Indian painter, Satish Gujral who was then in his formative years. In 1952 Gujral received a scholarship from the Mexican government and went to Mexico where he met Frida Kahlo and apprenticed under Diego Rivera and David Siqueiros.
New Delhi, September 7th, 1962.  Octavio Paz, and Indian Prime Minister (1947 - 1964) Jawaharlal Nehru, meet for the first time at Rashtrapati Bhawan.  Courtesy MEA
Some of Paz's best works were written during his time in India, notably The Monkey Grammarian, A Tale of Two Gardens. In Light of India continues to be a gateway for many Mexicans and outsiders alike to this country, its poetry, art and history.
Current bilateral relations
The Cultural Section of the Embassy of Mexico in India seeks to build conditions so that young Mexicans and Indians can reap from our past artistic exchanges and take our dialogues and shared passions further. It develops and implements a yearly program with projects, events and collaborative initiatives with private and public organizations, film societies, museums, cultural centres, art foundations and art festivals and provides guidance to Mexican arts, culture and tourism institutions on strategies to develop relationships and programs. Our focus goes on to include identification of cultural ties and common social experiences that bind Mexico and India together and their articulation through literature, visual and performative arts.
The Embassy of Mexico believes that culture is a powerful tool for reinforcing and affirming the bilateral ties and the threads that weave our countries and its people together. Cultural activities are consistently organized and announced on our social media channels. To be notified about the events write an email to Esta dirección de correo electrónico está siendo protegida contra los robots de spam. Necesita tener JavaScript habilitado para poder verlo. or visit:
Facebook @EmbassyOfMexicoInIndia
Twitter @EmbaMexInd
Instagram @embmexind
YouTube @Embassy of Mexico in India