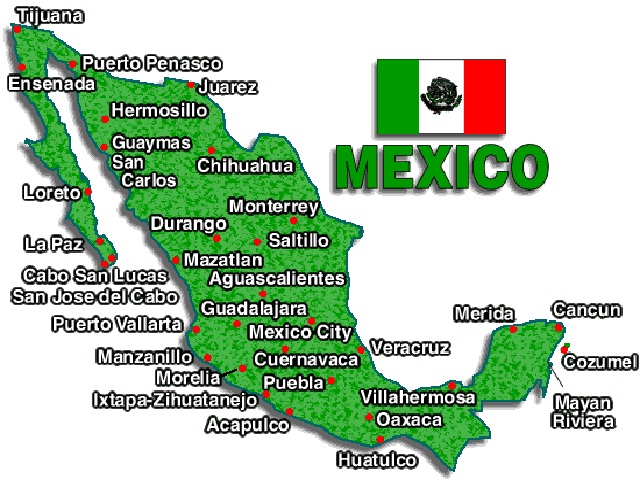 General Information
Official name: United Mexican States
Capital: Federal District
Language: Spanish
Adjective: Mexican
 Geographical location
Mexico is situated in the northern and central part of the American Continent. To the north, its border with the United States of America has a length of 1,926 miles and it is largely made up of the Rio Grande and the Colorado River. To the southeast it has borders with Guatemala (595 mi.) and Belize (161 mi.) To the West it borders on the Pacific Ocean and to the East on the Gulf of Mexico and the Caribbean Sea.
 Area
It has a total area of 761,530 mi2, which makes it the 13th largest country in the world and 5th in America. It is the northernmost Latin American and Caribbean country.The country is made up of 32 federative entities: Aguascalientes, Baja California, Baja California Sur, Campeche, Coahuila, Colima, Chiapas, Chihuahua, Durango, Guanajuato, Guerrero, Hidalgo, Jalisco, State of Mexico, Michoacán, Morelos, Nayarit, Nuevo León, Oaxaca, Puebla, Querétaro, Quintana Roo, San Luis Potosí, Sinaloa, Sonora, Tabasco, Tamaulipas, Tlaxcala, Veracruz, Yucatán, Zacatecas and the Federal District; the latter being the capital.
 Political Organization and National Holiday
Mexico's form of political organization is that of a representative, democratic, federal republic composed of states that are free and sovereign in everything concerning their internal regime; but united in a federation represented by three branches: Executive, Legislative and Judicial, whose seat is in the Federal District.Mexico's national holiday is September 16, the date commemorating the beginning of the struggle for its independence from the Spanish crown.
 Socio-demographic and Economic Aspects
According to the most recent census (2005) taken by the National Institute of Statistics and Geography (INEGI), Mexico's population totals 103,263,388 inhabitants, of which 50,249,955 are men and 53,013,433 are women. Around 6% of the population (5 years old and more) speaks some indigenous language, of which there are more than 62 throughout the country.Due to its historical origin, in Mexico both indigenous languages and Spanish are national languages and are equally valid throughout the territory. The states with the largest number of indigenous population are: Yucatán (59%), Oaxaca (48%), Quintana Roo (39%), Chiapas (28%), Campeche (27%), Hidalgo (24%), Puebla (19%), Guerrero (17%), San Luis Potosí (15%) and Veracruz (15%).Mexico is the world's 13th economy and the second in Latin America. In 2008, per capita Gross Domestic Product (GDP) stood at 10,235 dollars, and it is therefore considered a middle-income country. Mexico plays an important role in international trade. In 2008 it placed 11th as an exporting country and the 8th importer at world level, with 2.4% and 2.6% of total world exports and imports, respectively.According to the 2009 Report on Human Development of the United Nations Development Programme (UNDP), entitled "Overcoming barriers: human mobility and development", Mexico appears among the countries with a high index of human development, placing 53rd out of 182 countries. Mexico advanced one place with respect to the previous report, with a human development index of 0.854, on a scale in which more than 0.9 represents a very high degree of human development.
 Useful information
ELECTRIC CURRENT
127 V / 60 Hz
 CLIMATE
Federal District: The average annual temperature is 16°C (Temperate climate). The highest temperature reaches 25°C during the months from March to May; the lowest temperatures occur in January, approximately 5°C.
 CURRENCY  
Mexican peso
 TAXES
All purchases in Mexico are taxed with 16% value-added tax (VAT)
 AIRPORT TAX
For international commercial and private flights, the rate is US$ 17 or its equivalent in Mexican pesos. Normally it is included in the cost of the ticket.
 TIPS
In general, tips are not included in hotel rates or in the prices of restaurant menus. It is suggested to leave between 10 and 15% of the total amount of consumption.
 TAXIS
Should you require taxi service it is advised to use those provided by establishments that operate outside hotels, as well as authorized taxi stands.
 HOURS
Businesses: Most of them open from 9:00 a.m. to 8:00 p.m., Monday to Sunday.
Banks: Open from 9:00 a.m. to 4:00 p.m. from Monday to Friday (ATM network open 24 hrs.)
Museums and Places of Interest: Open from 9:00 a.m. to 5:00 p.m. Tuesday to Sunday (some museums offer free access on the weekend).
 CODES
00 International long distance
 COMMERCIAL TELEPHONY:
01 National long distance
52 Code for Mexico
044 Cellular telephones in the same area as the operator
045 Cellular telephones outside the area of the operator
 EMERGENCY TELEPHONES:
National number: 066
Federal District: 061
Emergency, Police, Fire Department and Ambulances: 080
Emergency and Help: 060
 PROHIBITIONS
The following are not permitted throughout the country:
1. Possession, consumption, transportation and marketing of natural or chemical drugs.
2. Possession, transportation and marketing of any type of archeological vestige or article.
3. Marketing (purchase or sale) of species or products derived from species in danger of extinction.
4. Extraction or mistreatment of corals of any type.
 REGULATIONS FOR SMOKERS
In Mexico, smoking is not permitted in closed spaces or in public buildings. Some places like restaurants, government offices, night clubs, etc. have an open area reserved for smokers.
 TIME ZONES
Mexico's local time is obtained in the following manner:
Central Zone. Refers to meridian 90 degrees west of Greenwich (UTC -6) and includes most of the territory