Lanzamiento del Capítulo Estonia de la Red de Mexicanos Altamente Calificados | Launching of the Mexican Talent Network in Estonia
El 30 de marzo se llevó a cabo el lanzamiento oficial del Capítulo Estonia de la Red de Mexicanos Altamente Calificados. El acto se llevó a cabo con participación de la Embajadora Norma Pensado y los miembros de esta Embajada vía Skype. En la representación de la Embajadora Pensado, el Cónsul Honorario de México en Estonia, Javier Ortiz de Artiñano, hizo entrega en Tallin de la Constancia que extiende el Instituto de los Mexicanos en el Exterior (IME) a los miembros de la Mesa Directiva.
La Embajadora Pensado destacó la importancia de la diáspora mexicana calificada en el desarrollo nacional y destacó en particular el potencial que Estonia ofrece a México en términos de gobierno electrónico, innovación, tecnología, e industrias creativas, áreas en las que los integrantes de la Mesa Directiva del Capítulo Estonia se desempeñan y buscarán llevar a cabo proyectos en beneficio para ambos países.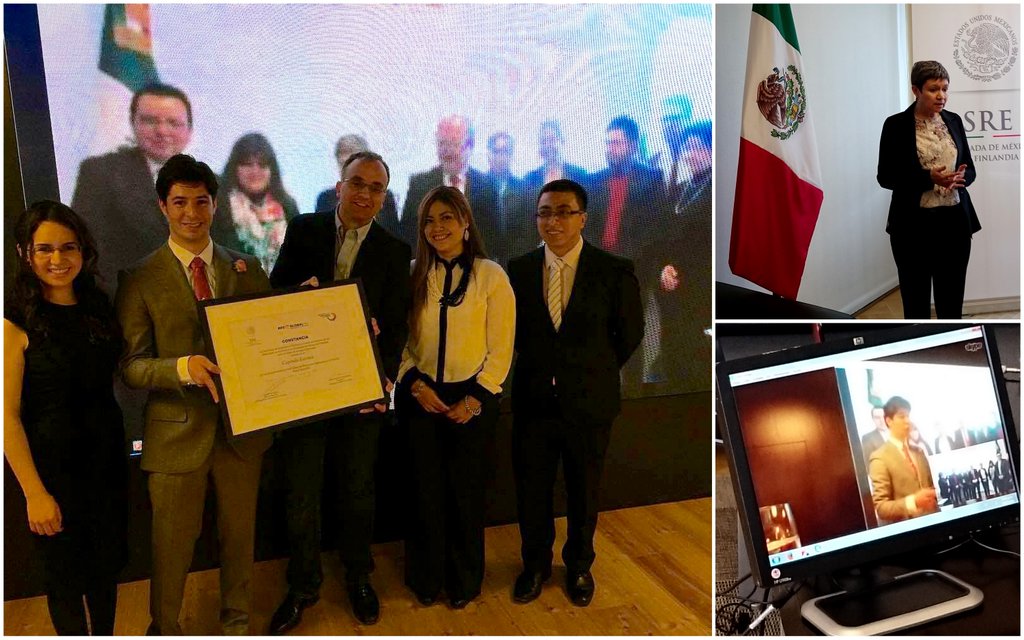 También hizo referencia al simbolismo de realizar ese evento vía Skype, siendo precisamente Estonia donde se creó este programa y siendo también Estonia uno de los países más avanzados en tecnologías digitales, área de alto interés para México.
Por su parte el Presidente del Capítulo Estonia, Carlos Vargas, mencionó que la creación de este Capítulo nace de la necesidad e inquietud de algunos mexicanos de crear una red específica para el país Báltico. Debido a la diferencia y oportunidades de Estonia con otros países de la región, consideraron necesario la conformación de una red específica que atienda las necesidades y oportunidades que el país y los mexicanos residentes en él, tienen que ofrecer. Debido al desarrollo tecnológico que Estonia ha tenido, se ha posicionado como uno de los países digitales más avanzados a nivel mundial. Agregó que la presencia en el país báltico de mexicanos capacitados permitirá una relación bilateral más cercana y beneficiosa para ambos países. Los proyectos del Capítulo se enfocarán principalmente, pero no estarán limitados a: desarrollo tecnológico en beneficio de México y Estonia así como el fortalecimiento académico y empresarial de ambos países. La divulgación de la cultura mexicana en Estonia será también un área prioritaria para el nuevo capítulo.
Los miembros de la Mesa Directiva son: Carlos Vargas Álvarez (Presidente), Angélica Rincón Méndez (Vicepresidenta), Daniela Ileana García Santibáñez (Secretaría y Coordinación de Proyectos), Leonardo Daniel Ortega Prudencio (Relaciones Públicas y Comunicación, Tesorería). El Capítulo Estonia se suma a los 49 capítulos en 23 países y casi cuatro mil miembros que conforman la Red Global de Mexicanos Altamente Calificados.
En el acto se reconoció el importante papel del Instituto de los Mexicanos en el Exterior para impulsar la interacción de la diáspora mexicana calificada en beneficio de México y sus países de residencia. 
Launching of the Mexican Talent Network in Estonia
The Mexican Talent Network in Estonia was launched on March 30 in Tallinn. The importance of this happening relies in the outstanding accomplishment for the high-qualified Mexican diaspora to organize in order to carry out projects related to science, technology, business, innovation and culture in a country with plenty of possibilities for growth, collaboration and apprenticeship, as Estonia.
This Network aims at contributing to developing a platform of ideas, concepts and businesses that converge in a community of young Mexicans interested in sharing their experiences, contacts and knowledge acquired in Estonia. The promotion of the projects carried out by business or institutions with which these Mexicans are collaborating, contributes also to provide added value to these institutions and to strengthen the relations between Mexican and Estonian companies, universities, and the people itself.
This initiative is part of the strategy of mobility, entrepreneurship, and transfer of knowledge of the Global Network of Qualified Mexicans Abroad, which now has 49 chapters in 23 countries and more than 4000 members. The Global Network is a Program promoted by the Ministry of Foreign Affairs of Mexico through the Institute of Mexicans Abroad, together with the National Council for Science and Technology. This Program was born in 2005 as a result of the interest in incorporating the highly qualified innovative Mexicans abroad to the national development of the country. The Mexican diaspora is the second largest in the world. In particular, active Mexican professionals abroad are recognized as high value assets, allowing visibility and impact of the projects they carry out, the links they make, the goals they achieve, the networks they build, both in Mexico and from now on, also in Estonia.
Ambassador of Mexico to Estonia (based in Finland), Norma Pensado Moreno, underlined the importance of qualified Mexican diaspora in the national development and in the promotion of a positive image of Mexico abroad. In particular, she mentioned the potential that Estonia offers to Mexico in terms of innovation, science, technology, start-up community and business, areas in which the members of the Board of the Network are currently developing and carrying out projects in benefit of both countries.
The members of the Board of the Mexicans Talent Network in Estonia underlined the importance of Mexican professionals abroad attributing to their country of origin through the institutions they work with. They expressed their willingness to pursue the projects of the Network, which will be the real challenge from today.
Each chapter decides their membership, working plan and activities. The Embassy of Mexico has been the channel through which these people have gathered but the decision itself was made by its members.
The Embassy of Mexico is pleased that Talented Mexicans living in Estonia have decided to establish the Estonian Chapter of the Network.