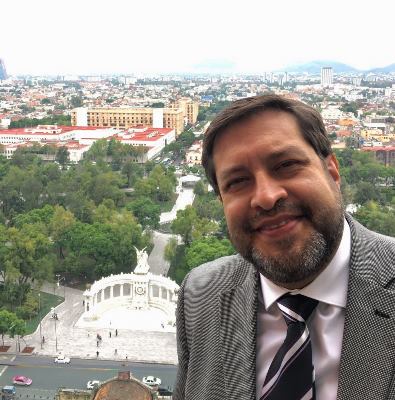 Ernesto Céspedes Oropeza
Embajador de México en Finlandia
Es miembro de carrera del Servicio Exterior Mexicano ostentando el rango de Embajador. Obtuvo la licenciatura en Economía en el Instituto Tecnológico Autónomo de México (ITAM), cuenta con el grado de Maestría en Políticas Públicas Internacionales por la Escuela de Estudios Internacionales Avanzados (SAIS) de la Universidad Johns Hopkins en Washington, D.C. Cuenta con el grado de Maestría en Seguridad y Defensa Nacionales, otorgado por la Universidad del Ejército y la Fuerza Aérea de México. 
Fungió como Cónsul Alterno de México en Frankfurt, República Federal de Alemania. Se desempeñó como Secretario para Asuntos Económicos en la Embajada de México en los Estados Unidos de América. Fue Cónsul de México en San Francisco, encargado de las Áreas de Prensa y Protección Consular, se encargó de los asuntos Canadienses ante la Organización para la Cooperación y Desarrollo Económicos (OCDE) y fue funcionario de intercambio entre los Servicios Exteriores de Canadá y México. Posteriormente, fue designado como Cónsul General de México en Guangzhou, China
En la Secretaría de Relaciones Exteriores (SRE) ha laborado en la Dirección General de Protección y Asuntos Consulares y en la Subsecretaría para las Naciones Unidas. Se desempeñó como Coordinador de Asesores de la Subsecretaría para Temas Globales; Director General de Temas Globales y como Encargado de Coordinación de Crisis de la SRE, hasta su nombramiento como Embajador de México en Finlandia.
Sigue al Embajador Céspedes en Twitter: @EmbCespedes
Ernesto Céspedes
Ambassador of Mexico in Finland
Ambassador Céspedes is a career diplomat of the Mexican Foreign Service holding the rank of Ambassador. He has a Bachelor's Degree in Economics from the Autonomous Technological Institute of Mexico (ITAM), and a Master's Degree in Public Policy from the John Hopkins University's Paul H. Nitze School of Advanced International Studies (SAIS) in Washington D.C. He is also a holder of a Master's Degree in Security and National Defense from the Army and Air Force University of Mexico.
Abroad, Ernesto Céspedes has been the Deputy Consul of Mexico in Frankfurt, German Federal Republic. He was also the officer in charge of Economic Affairs at the Embassy of Mexico in the United States of America. Later, he became Consul for Press and Consular Protection at the Mexican Consulate in San Francisco, afterwards he was in charge of Canadian Affairs before the The Organisation for Economic Co-operation and Development (OECD). Ambassador Céspedes was also selected to participate as an exchange officer between the Mexican and Canadian Foreign Service. Lastly he was appointed as Consul General of Mexico in Guangzhou, China.
At the Ministry for Foreign Affairs (SRE) he has worked in the Direction General for Consular Affairs and Protection and in the Undersecretary for the United Nations. He was the Coordinator of the Advisory Office for the Undersecretary for Global Issues; Director General for Global Issues, and Director for Crisis Coordination of the SRE until his appointment as Ambassador of Mexico to Finland.
Follow Ambassador Céspedes on Twitter: @EmbCespedes
Ernesto Céspedes
Meksikon Suomen-suurlähettiläs
Suurlähettiläs Ernesto Céspedes on ammattidiplomaatti, joka on tehnyt mittavan uran Meksikon ulkoasiainministeriössä. Koulutukseltaan hän on taloustieteiden kandidaatti (Instituto Tecnológico Autónomo de México, ITAM) ja hallintotieteiden maisteri (John Hopkins University's Paul H. Nitze School of Advanced International Studies, Washington, D.C.). Lisäksi hänellä on kansallisen turvallisuuden ja puolustuksen maisterin tutkinto Meksikon armeijan ja ilmavoimien yliopistosta.
Ulkomailla Céspedes on toiminut Meksikon varakonsulina Frankfurtissa, Saksassa, talousasioista vastaavana lähetystösihteerinä Meksikon Yhdysvaltain-suurlähetystössä sekä vastannut viestinnästä ja konsulisuojelusta Meksikon San Fransiscon -konsulaatissa. Meksikon OECD-edustustossa Céspedes vastasi Kanadan asioista ja osallistui myös virkamiesvaihtoon Meksikon ja Kanadan ulkoasiainhallintojen välillä. Myöhemmin Céspedes toimi Meksikon pääkonsulina Kiinan Guangzhoussa.
Meksikon ulkoasiainministeriössä Céspedes on työskennellyt suojelu- ja konsuliasioiden osastolla, YK- ja globaaliasioista vastaavissa alivaltiosihteeristöissä sekä toiminut globaaliasioiden osaston päällikkönä. Ennen nimitystään suurlähettilääksi Suomeen Céspedes vastasi ulkoministeriössä kriisikoordinoinnista.
Seuraa suurlähettiläs Céspedesiä Twitterissä: @EmbCespedes