Mexico and the U.S. have a strong and deeply-rooted economic relationship; the U.S. is Mexico's largest partner in terms of trade, while Mexico consistently ranks as one of the United States' top three economic partners. Under NAFTA, trade between the two countries has more than tripled, making Mexico the first trading partner of the U.S., and reaching a total of $614.5  billion U.S. dollars in 2019.

This section of the website is designed to provide you with information pertaining to the commercial exchange between the two countries, as well as a detailed breakdown of the composition and direction of trade with Mexico at both a national and a state level.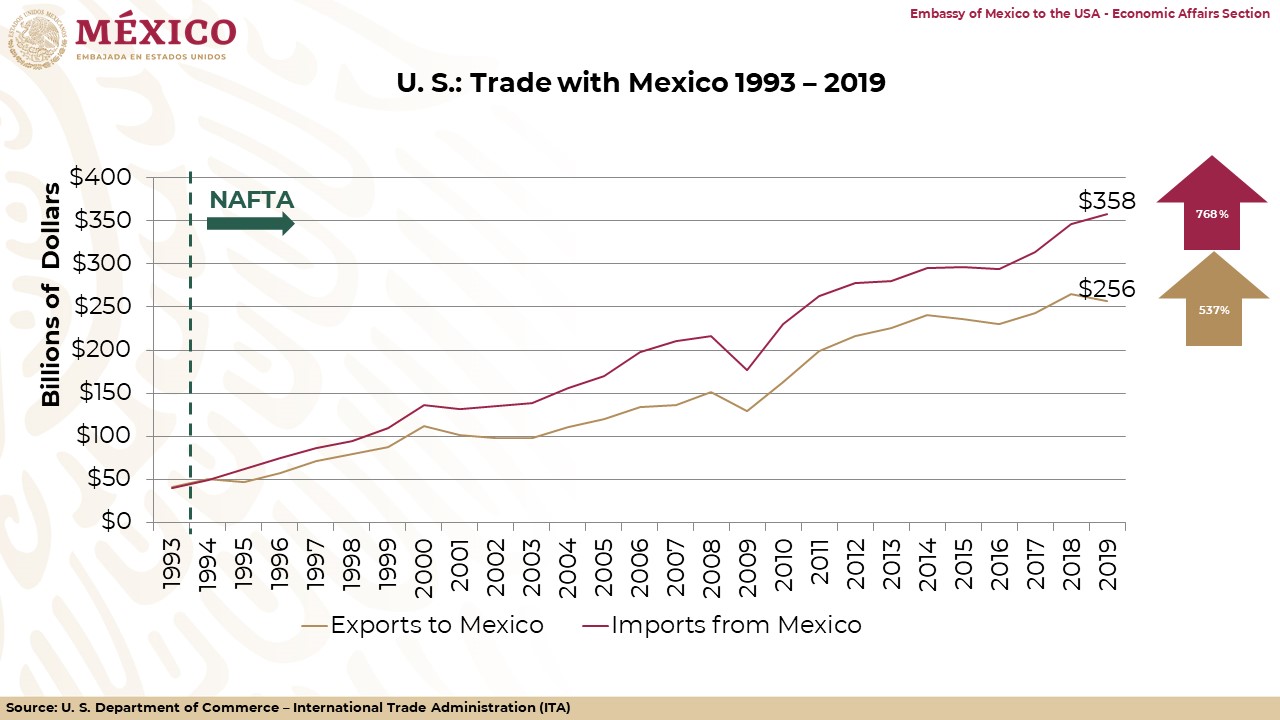 Trade
During the first six months of 2019, trade between Mexico and the U.S. reached $614.5 billion worth of goods, almost 15% of all U.S. trade. This puts Mexico just above Canada ($612 billion) and China ($558 billion).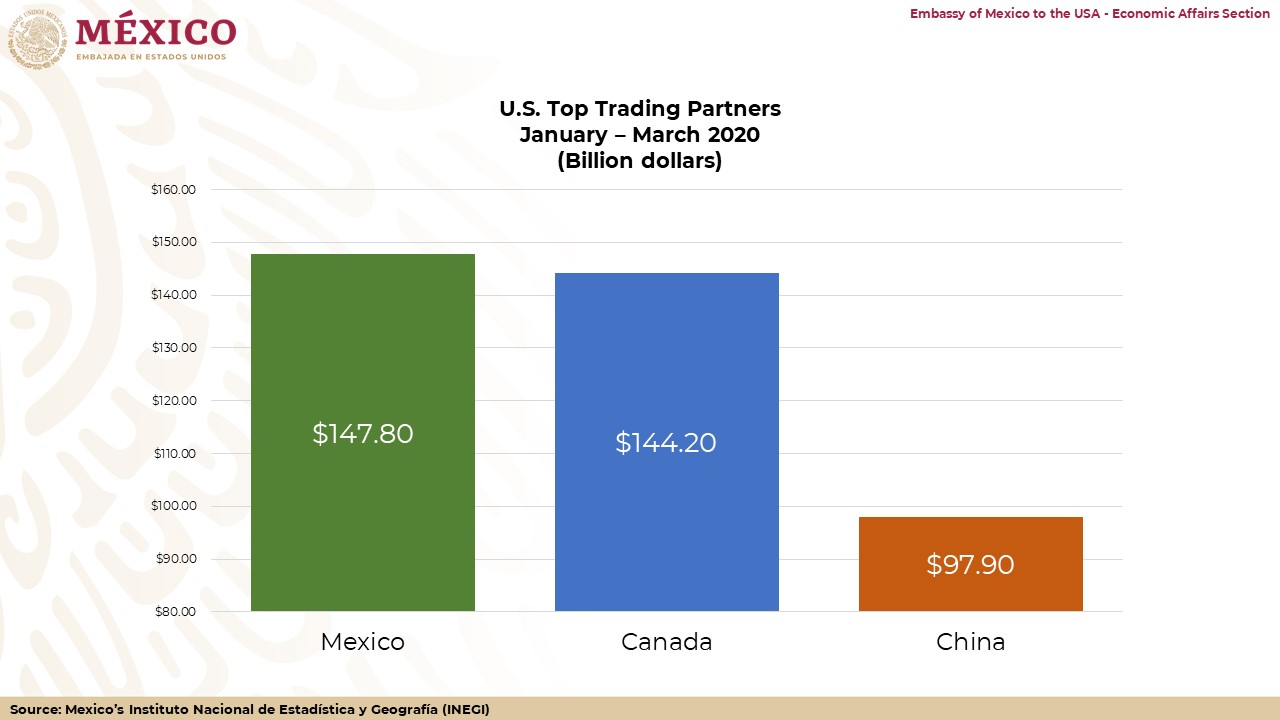 Mexico purchases more than 15% of the United States' total exports, which is equivalent to $265 billion dollars.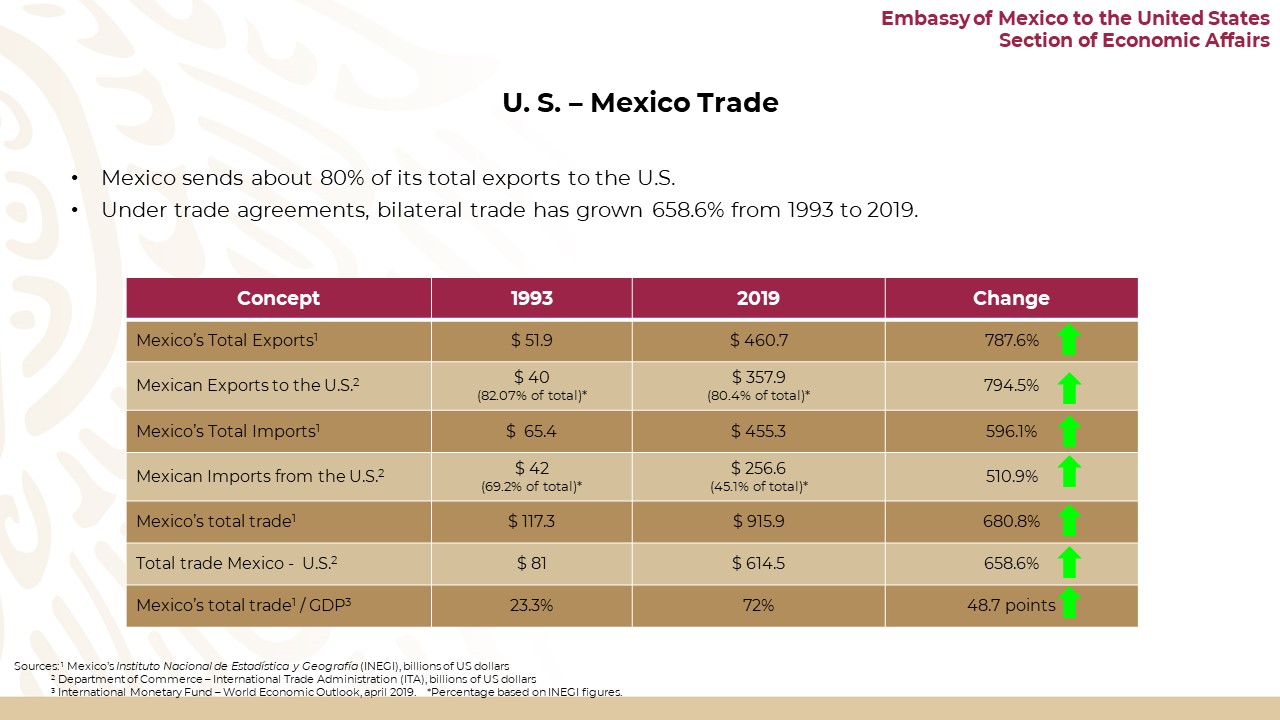 The 10 border states, together, represent the 4th largest economy in the world due to trade.


Mexico sends about 80% of its total exports to the U.S.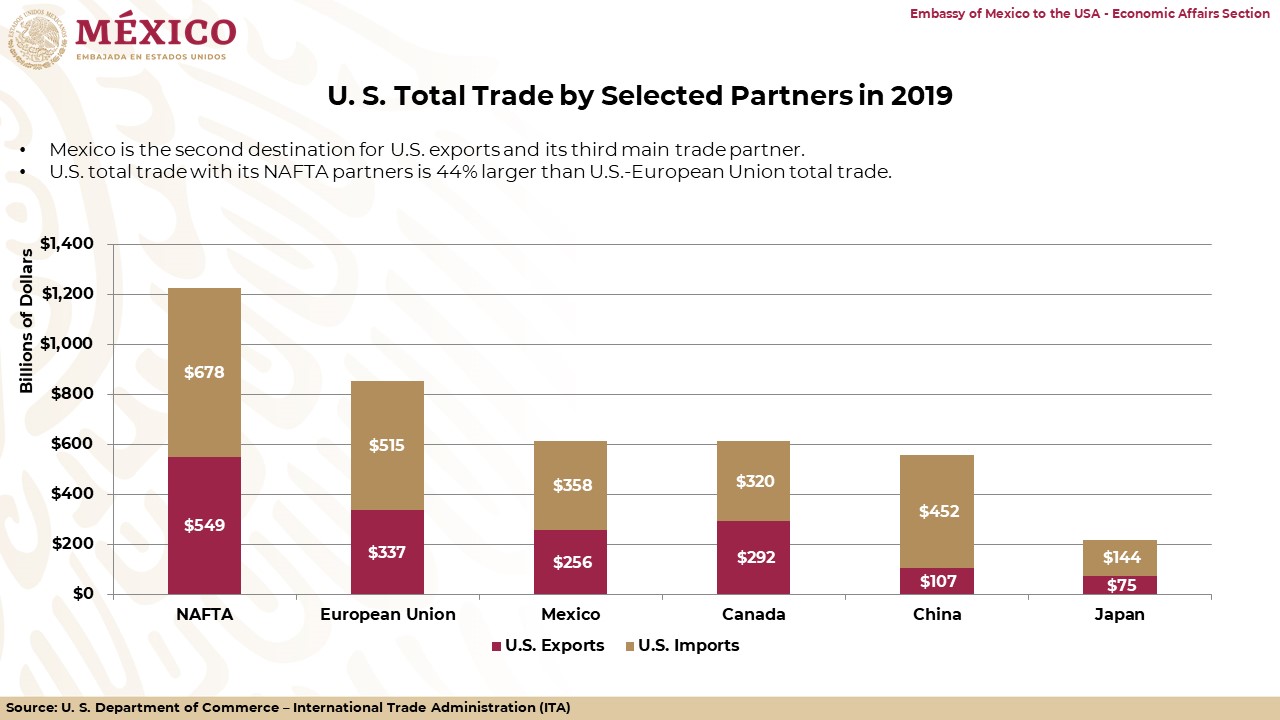 Mexico is one of the top 3 export markets for 29 states of the U.S.


In 2019, Mexico was the United States' 2nd largest source of imports.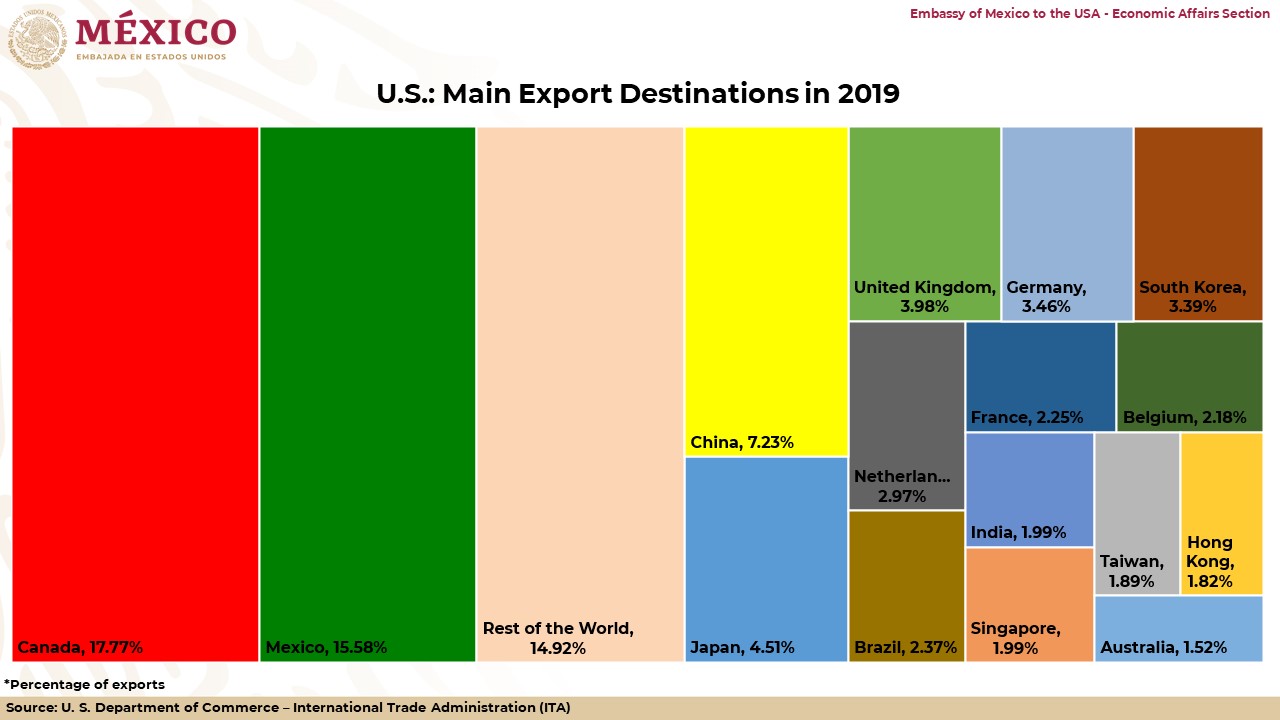 The United States had an estimated services trade surplus of $8.8 billion with Mexico in 2018, up 19.1% from 2017.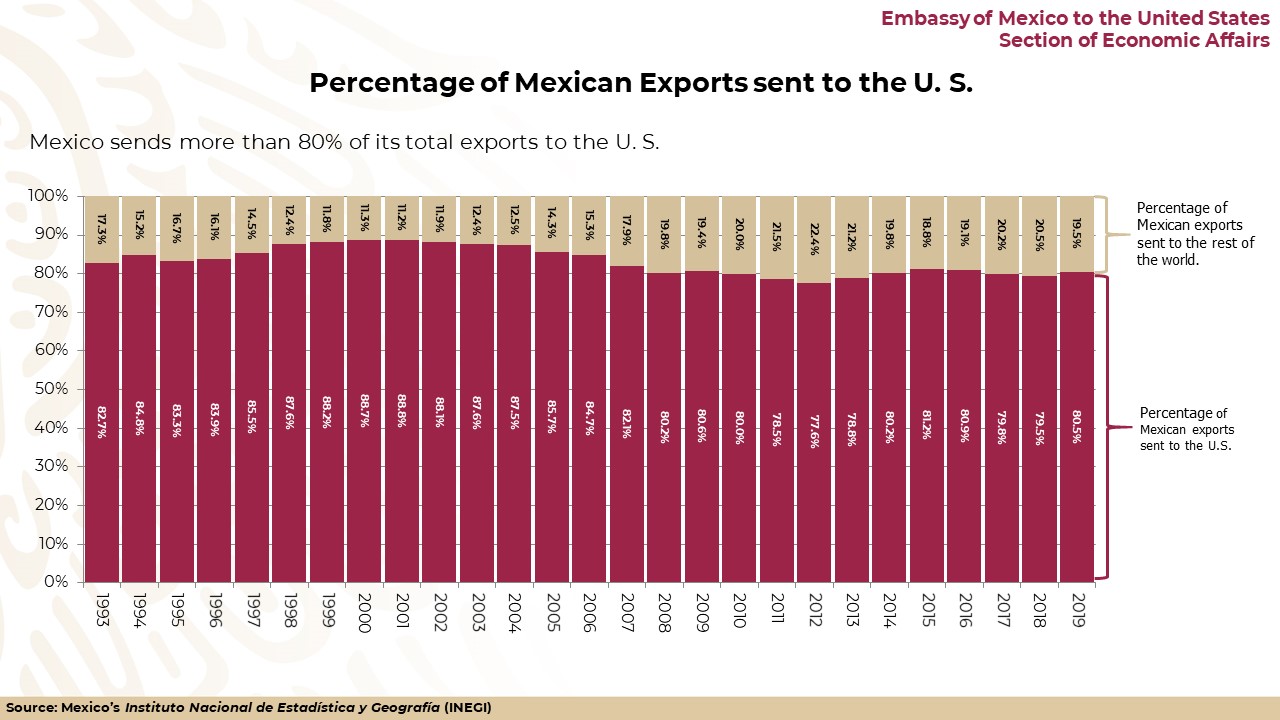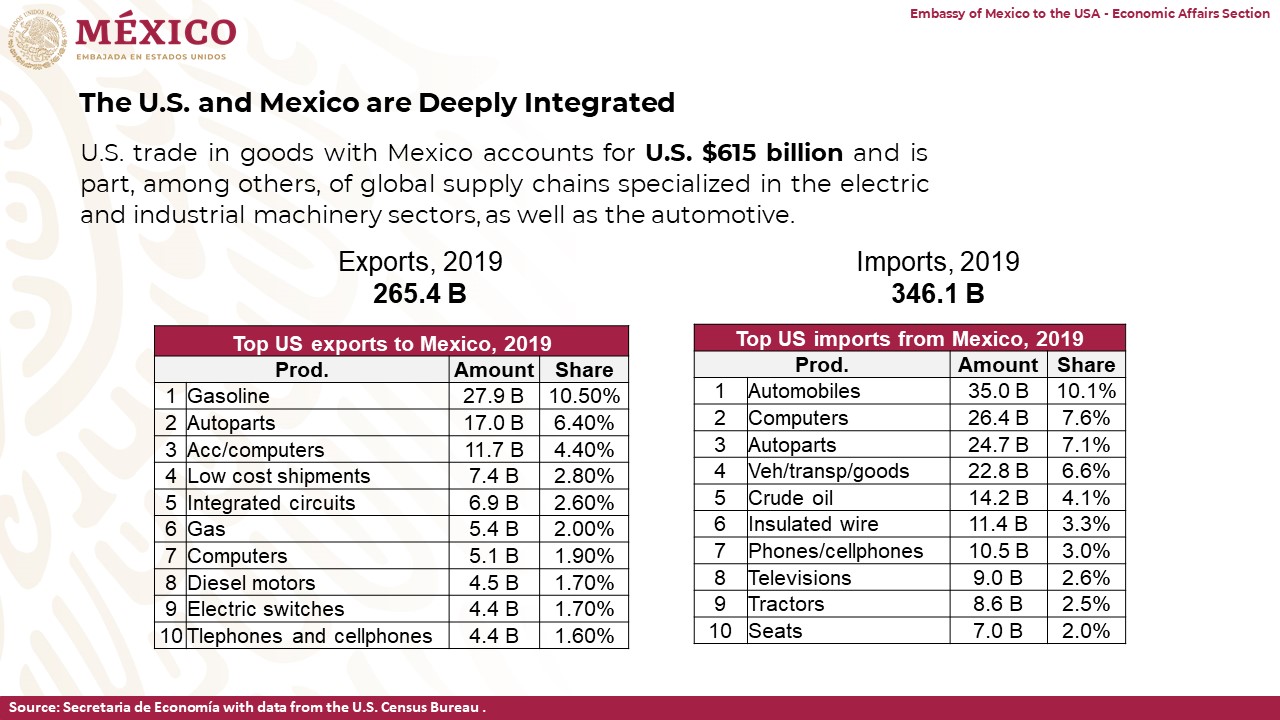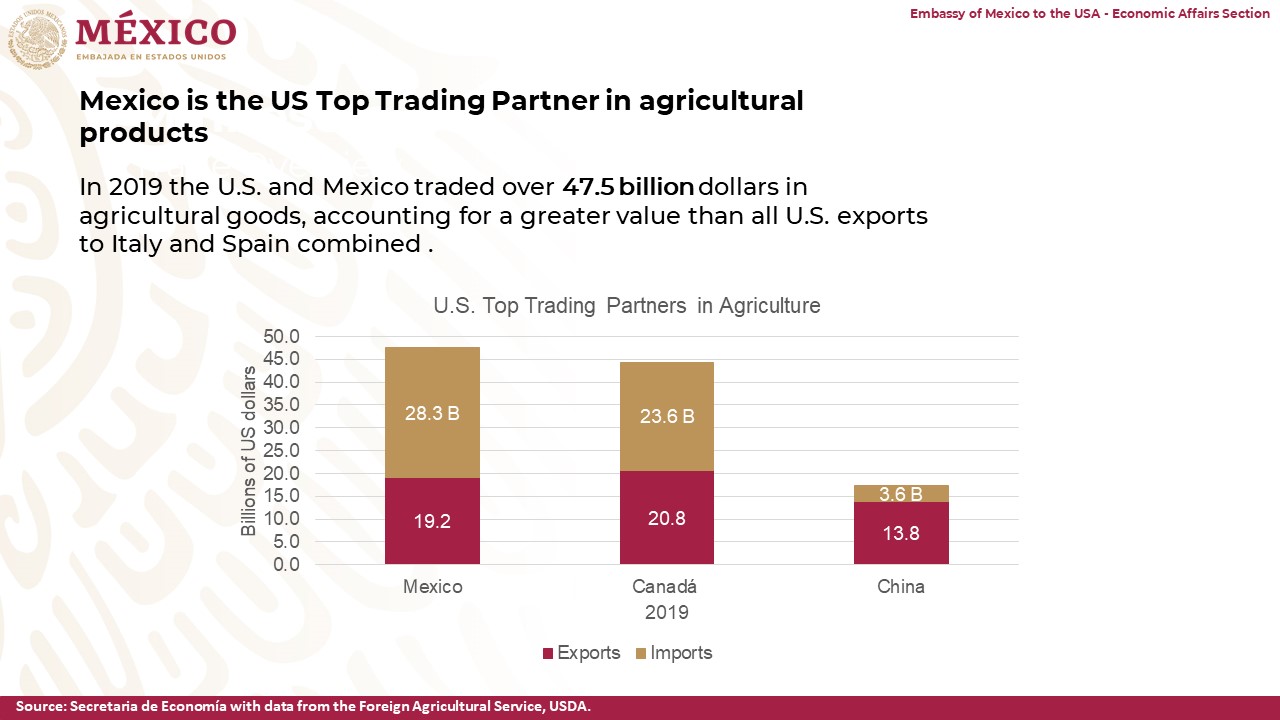 Border
There are 60 ports of entry along the length of the border, which is approximately 1,933 miles or 3,111 kilometers.


Every day 427,000 vehicles, 30,000 trucks and 1,000,000 people cross the border between Mexico and the U.S.


The border region represents a combined population of around 15 million people.
More than half of the United States' total exports to Mexico can be attributed to the four U.S. states along the Mexico-U.S. border.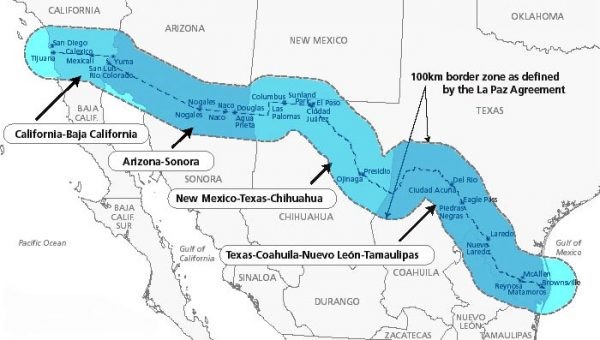 Jobs
Around 5 million American jobs depend on trade with Mexico.

In the last 20 years under NAFTA, wages have increased 28% in Mexico, and 31% in the United States.

The number of American jobs supported by trade with Mexico is equivalent to the populations of Delaware, South Dakota, North Dakota, Alaska, D.C., Vermont, and Wyoming combined.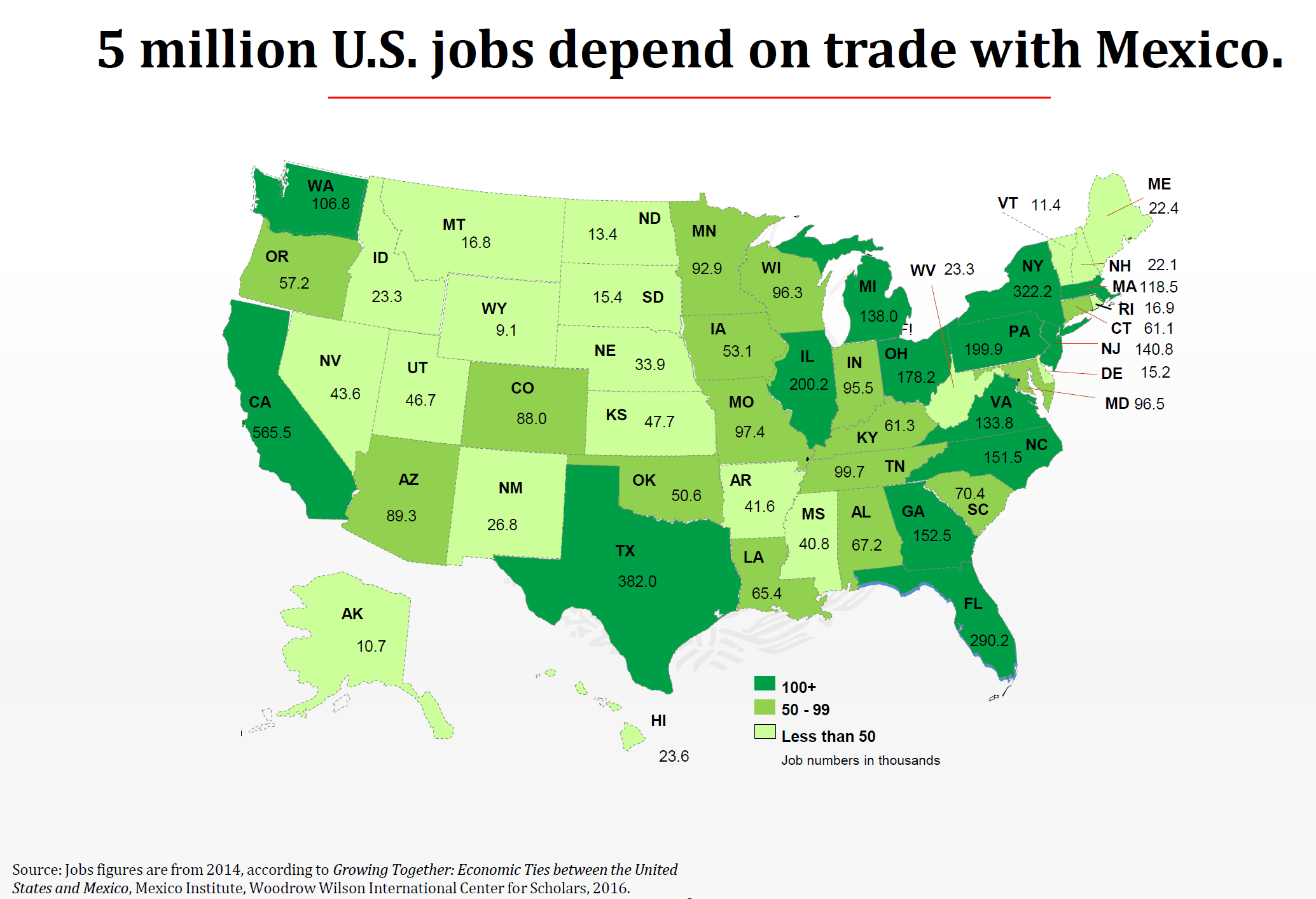 Investment
The total investment of Mexican companies in the United States is valued at $58 billion dollars, while the total investment of American companies in Mexico is valued at $87 billion dollars.
Bilateral FDI stock has increased significantly since the early nineties; U.S. FDI stock in Mexico has increased approximately 6.5 times since 1994, while Mexico's FDI stock in the U.S. has experienced a ninefold increase.