Details

Category: March 2015
Hits: 1972
Press Release 329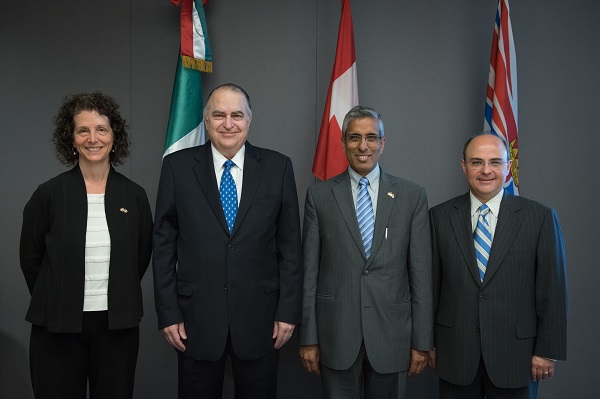 Representatives of the Governments of Mexico and Canada, as well as the academic and private sectors, met today at The University of British Columbia, in Vancouver, Canada to discuss how to increase the bilateral collaboration on higher education, innovation and investigation in order to promote the 21st Century human capital and deepen the mutual understanding.
The meeting was chaired by the Under-Secretary for North America, Dr. Sergio M. Alcocer. It was attended by representatives of the Mexican ministries of Public Education (SEP), Energy (SENER), National Council on Science and Technology (CONACYT); the National Association of Universities and Institutions of Higher Education (ANUIES); the Federation of Mexican Private Institutions of Higher Education (FIMPES); the Mexican Academies of Engineering, Sciences and Medicine, as well as by representatives of the Confederation of Industrial Chambers of Mexico (CONCAMIN).
On the Canadian side, the meeting was attended by representatives of the Department of Foreign Affairs, Trade and Development (DFATD), the Canadian Bureau for International Education (CBIE), the Ministry of Advanced Education of British Columbia, as well as representatives of Canadian associations and universities and the Canadian Chamber of Commerce (CanCham).
During the meeting, the participants identified good collaboration practices on academic mobility and joint investigation between institutions and associations of both countries. They agreed to organize binational workshops in order to identify synergies on innovation and human capital in strategic sectors for Canada and Mexico such as energy, aerospace, automotive and mining, among others, aimed at developing an Action Plan establishing the priorities and concrete collaboration activities.
In this framework, it was also announced the signing of the Specific Cooperation Program to Promote the Mobility of Researchers and Students 2015-2016 between the Mexican Ministry of Public Education and The University of British Columbia, through the organization of universities and institutions of higher education of Canada, MITACS, that over the next three years will benefit 360 Mexican students and 100 Canadian students.