PRESS RELEASE
Embassy of Mexico in Canada
Ottawa, Canada, June 24, 2014



The Sixth Meeting of Honorary Consuls of Mexico was held at the headquarters of the Foreign Ministry (SRE), with the attendance of over 100 participants from 60 countries. Participants from Canada included Mexico's Honorary Consul in Quebec City, Madeleine Therrien; the Honorary Consul in Winnipeg, James Erwin Downey; the Honorary Consul in Halifax, Nova Scotia, Galo Carrera Hurtado; and the Honorary Vice-Consul in Quebec City, Micheline Dessureault.

The meeting brought together those who perform consular duties in an honorary capacity on behalf of Mexico, as well as senior Foreign Ministry officials and representatives from federal and state governments and the private sector.

The main purpose of the meeting was to update Mexico's honorary consuls on the country's progress and challenges and the nation's priorities for trade, tourism and culture. The meeting's agenda reflected two of the guiding principles established by President Enrique Peña Nieto at the beginning of his administration: prosperity for Mexico and Mexico as a globally responsible stakeholder.

President Enrique Peña Nieto hosted a working breakfast for Mexico's honorary consuls at the National Palace. The Secretaries of Finance and Public Credit, Tourism, and the Economy, the Chair of the National Council for Culture and the Arts, and the CEO of ProMéxico gave presentations on their respective spheres of responsibility to the honorary consuls, who also visited the states of Estado de México and Campeche, where they met with state authorities and representatives from the business sector.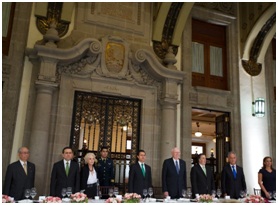 The Honorary Consul of Mexico in Quebec City, Madeleine Therrien, together with President Enrique Peña Nieto during the working breakfast hosted by the President.


Based on SRE Press Release 248 (15/06/2014)