Press Release
Embassy of Mexico in Canada
Ottawa, Canada, June 20, 2014


To commemorate 40 years since the signing of the Memorandum of Understanding of the successful Seasonal Agricultural Workers Program (SAWP), the Ambassador of Mexico to Canada, Francisco Suárez Dávila, conducted a working visit to Leamington, Ontario. The locale, one of the cities with the highest concentration of seasonal agricultural workers, houses the Mexican Consulate that was opened in 2005 to offer consular assistance to the roughly 3,000 Mexicans employed through the SAWP.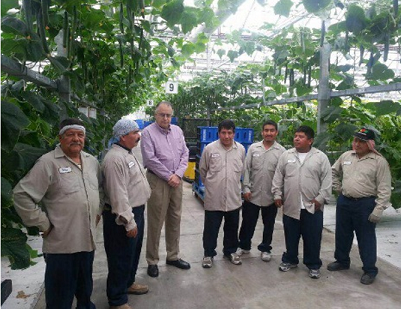 Ambassador Suárez Dávila visited the tomato greenhouses of Great Northern Hydroponics and cucumber greenhouses of 1329606 Ontario LTD, where he met with the owners to exchange views on the program's operations and discuss proposals to improve its performance, particularly in regard to labour security, housing conditions and access to health services for the workers. He also spent some time with the Mexican agricultural workers to learn about their employment conditions and their perceptions of the program.

During his visit, the Ambassador was accompanied by Minister Eusebio del Cueto, Consul of Mexico in Leamington, as well as consular and protection personnel from the Consulate, with whom he also held an extensive meeting to work on various topics and evaluate the program in that constituency.

The SAWP began with 203 workers in 1974 and has grown every year to reach a record high of 18,501 workers in 2013, working on 1,684 farms in nine provinces of Canada. Half of the Mexican seasonal agricultural workers are situated in Ontario, with a large part of them in Leamington; 20% of all workers are in British Columbia and 20% in Quebec, and the remaining 10% are distributed among provinces of Alberta, Manitoba, Prince Edward Island, Saskatchewan, Nova Scotia and New Brunswick. The main crops in which Mexican agricultural workers are employed are vegetables and legumes (38% of the total), fruits (26.5% of the total) and flowers (6.6% of the total)

The SAWP has become an exemplary circular labour mobility program whose success lies in ensuring a safe, orderly and legal migration. It provides Canada with the possibility of meeting labour needs while Mexican families benefit by obtaining secure employment that provides them with a satisfactory income.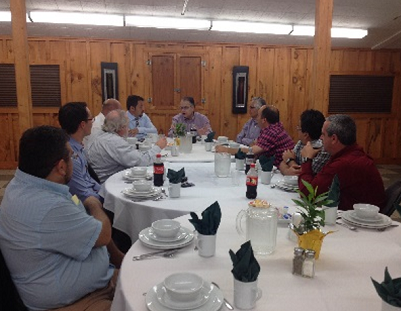 In an effort to improve working conditions for Mexicans participating in the program, the governments of Mexico and Canada hold annual meetings to assess the program and propose improvements to it. One result of these efforts has been to establish a system for workers to evaluate their employers.

The government is seizing the opportunity provided by commemorating 40 years of the Seasonal Agricultural Workers Program to reaffirm its commitment to defending the rights of Mexicans in the program and promoting institutional arrangements that ensure safe, orderly, and legal migration.