Press Release No. 089/14 | Querétaro, Querétaro, May 27, 2014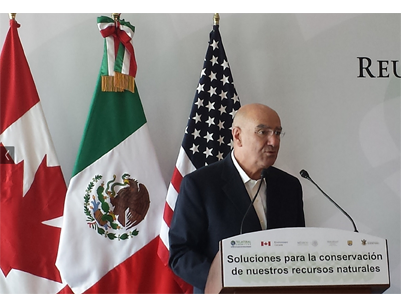 •    Guerra Abud inaugurates Trilateral Meeting and calls upon partners to strengthen public policies to protect biodiversity.
•    The High-Level Working Group on the Monarch Butterfly will meet to implement actions to conserve the species' migratory phenomenon.

Upon inaugurating the "19th Annual Meeting of the Canada-Mexico-US Trilateral Committee for Wildlife and Ecosystem Conservation and Management", Mexican Secretary of the Environment and Natural Resources, Juan José Guerra Abud, stressed the importance of strengthening continental efforts to conserve and manage wildlife and ecosystems.
As he welcomed the environmental authorities of Canada and the United States, led by Sheldon Jordan and Bryan Arroyo, respectively, he emphasized the need to improve public policies to protect the region's biodiversity, which has been adversely affected by climate change.
In addition to the work of the Trilateral Committee, the "High-Level Working Group on the Monarch Butterfly" will also meet, involving the following participants: on behalf of Canada, representatives of the Canadian Wildlife Service; for the United States, personnel from the Department of the Interior and its Geology Agency; and for Mexico, officials from the National Commission for Protected Natural Areas (CONANP), the Federal Law Office for Environmental Protection (PROFEPA), the National Forestry Commission (CONAFOR) and SEMARNAT through the Coordinating Unit for International Affairs (UCAI) and the Wildlife Department (DGVS).
In this regard, Secretary Guerra Abud said that participants were expecting concrete results and agreements that would enable strengthening and, where appropriate, implementing actions to conserve migration of the Monarch Butterfly.
The Governor of Querétaro, José Calzada Rovirosa, noted that 33 percent of his territory comprises Natural Areas, so he prioritizes the issue of conservation to ensure the quality of life of future generations.
The Trilateral Committee meets annually to address various issues of great importance in conservation and sustainable use of resources, implementation of recovery plans for species such as the Mexican wolf, California condor and the Northern bobwhite, in addition to the preservation of marine and terrestrial ecosystems and specific topics in law enforcement cooperation.
Important activities will include the signing of a Letter of Intent on collaboration between the U.S., Canada and Mexico, for the eradication of invasive species on islands of North America.
The work of the "19th Annual Meeting of the Canada-Mexico-US Trilateral Committee for Wildlife and Ecosystem Conservation and Management" will take place on May 27-28 in the city of Querétaro, Querétaro.
Distinguished attendees of the opening ceremony included Luis Fueyo MacDonald, Head of CONANP; Guillermo Haro Bélchez, Head of PROFEPA; Rafael Pacchiano Alamán, Undersecretary for Environmental Management at SEMARNAT; Gloria Tavera Alonso, Director of the Monarch Butterfly Biosphere Reserve; Jorge Maksabedian de la Roquette, Director General of Wildlife, and Roberto Loyola Vera, Mayor of Querétaro.