The Ordinary Session of the Advisory Committee of the North American Commission for Environmental Cooperation (CEC) was inaugurated
Upon initiating Ordinary Session 14-01 of the Joint Public Advisory Committee (JPAC) of the North American Commission for Environmental Cooperation (CEC), Mexico's Secretary of the Environment and Natural Resources, Juan José Guerra Abud, noted that 20 years after the signing of the North American Free Trade Agreement (NAFTA) and the Environmental Side Agreement, the commitment of Mexico, the United States and Canada to address priority issues has grown stronger.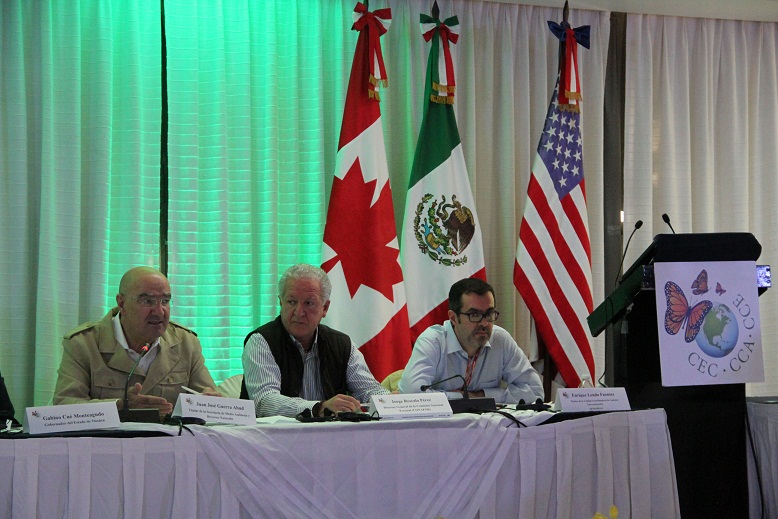 He spoke of mitigating and adapting to climate change and biodiversity conservation, in which he cited the example of El Pinacate and the Gran Desierto de Altar, an arid region shared by Sonora and Arizona, as well as the case of the Monarch Butterfly, which traverses all three countries in its migratory cycle. In this regard, he stated that the CEC's Advisory Committee has represented civil society in the drafting of proposals, conservation standards and environmental regulations.
Guerra Abud thanked Robert Varney, President of JPAC and Irasema Coronado, Executive Director of the CEC, for having chosen Mexico and especially Oaxaca to host this trilateral forum, which brings together experts from governments, research centers, NGOs and civil society.
The Executive Director of the CEC reported that during these two working days participants would address access to clean water, indoor air quality and access to energy in remote communities, and seek to encourage exchange of technology, projects and designs as well as the protection of vulnerable communities from the impacts of climate change.
Robert Varney emphasized the importance of having JPAC members bring to the table the issue of building healthy and sustainable housing in remote communities, as the achievement of conditions of environmental justice and equity require that all residents be given equal opportunities.
Present at the inaugural event were the Governor of Oaxaca, Gabino Cué Monteagudo; for SEMARNAT, Jorge Rescala Pérez, Director General of the National Forestry Commission (CONAFOR); Enrique Lendo Fuentes, Director of the Coordinating Unit for International Affairs; Tomás Víctor González Ilescas, SEMARNAT Representative for the state of Oaxaca, as well as federal, state and municipal officials.

Press Release Nº 75/14 | Oaxaca, Oaxaca, May 12, 2014