Mexico City, April 24, 2014– The Secretariats of National Defence and the Navy report that the Second Trilateral Meeting of North American Defence Ministers was held today in Mexico City, by authorization of President Enrique Peña Nieto. Participants in the meeting included Mr. Robert D. Nicholson, Minister of Defence of Canada; Mr. Charles Timothy Hagel, Secretary of Defence of the U.S.A.; General Salvador Cienfuegos Zepeda, Mexican Secretary of National Defence, and Admiral Vidal Francisco Soberón Sanz, Mexican Secretary of the Navy.
Upon conclusion of the meeting, and based on the topics addressed, the aforementioned officials agreed to issue the following joint declaration: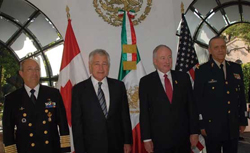 Due to the depth of our relationships, our geography, demography and economic integration, our three nations share mutual defence interests. The threats to North America and the hemisphere are increasingly complex and require a coordinated response. Based on the process of the North American Leaders Summit, we remain committed to improving our common understanding of these threats and to developing the skills needed to confront them effectively.

Our countries recognize the importance of the work that has been done through the first trilateral meeting and we pledge to continue to address the challenges we have identified in the region. We agree that transnational threats require transnational responses. Through the work of the Second Trilateral Meeting of Defence Ministers and based on the foundations established in the first meeting, we have identified the following areas in which to extend our trilateral defense cooperation:
Update the assessment of continental threats from North America, to deepen our understanding of common threats and challenges we face.
Continue to identify measures and procedures to support civil public security institutions.
Develop mechanisms to work together in order to increase the efficiency of our Armed Forces in support of civil institutions in cases of natural or man-made disasters.
Share information regarding cyber-defence challenges and methods to address them.
Identify opportunities to coordinate activities that help strengthen security in the border areas of the North American region.
Continue to work together to strengthen hemispheric defence forums such as the Conference of Defence Ministers of the Americas and the Inter-American Defence Board.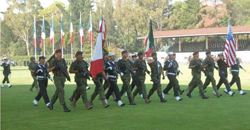 The Secretariats of National Defence and the Navy organized and participated in the Second Trilateral Meeting of North American Defence Ministers, in accordance with the instructions of the President and Supreme Commander of the Armed Forces to expand and strengthen Mexico's presence as a Globally Responsible Stakeholder.