Press Release
Embassy of Mexico
Ottawa, Canada, March 17, 2014

As a result of the agreements reached between the Prime Minister of Canada, Stephen Harper and the President of Mexico, Enrique Peña Nieto, during the meeting held in Mexico City on February 17 and 18 of this year, the government of Mexico will open a consular agency in Winnipeg, capital of the Province of Manitoba. This is another concrete action by the government of Mexico to strengthen relations between the two peoples as part of a broad agenda.

The opening of the consular agency, which will depend on the Consulate General of Mexico in Toronto, aims to strengthen the presence of Mexico in Canada and provide better service in terms of documentation, consular assistance and protection to nearly 7,500 Mexicans living in the Province, as well as those working within the Seasonal Agricultural Workers program.

Winnipeg is part of one of the continent's most important north-south logistics corridors and its strategic location in the centre of Canada makes it a hub for air, rail and road transport. Trade between Mexico and Manitoba has increased 1,398% since the entry into force of the North American Free Trade Agreement. Today Mexico is the third largest source of imports for the Province and the fourth export destination. The new office in Winnipeg will facilitate identifying and capitalizing on new business and investment opportunities that would deepen the already vigorous trade, which in 2013 amounted to 842 million dollars. In terms of flow of people, over 50,000 tourists from the Province visit Mexico, particularly during the winter months.

Both Mexico and Canada are federalist countries, so the work to be done by the office in Winnipeg is particularly important with respect to facilitating a closer relationship between the Province and the Mexican state governments, building on existing agreements and memoranda of understanding with Durango, Jalisco and Nuevo Leon in commercial, agricultural, academic, scientific and research cooperation matters, as well as training in fire prevention.

The opening of the consular agency in Winnipeg will continue the rich history between Mexico and the Province of Manitoba. In the 1920s and 1930s Mexico had a Consulate in Winnipeg and throughout the years Mexico has been represented by distinguished honorary consuls. In particular, this Embassy recognizes the valuable work that has been done since 2005 by the current Honorary Consul of Mexico in Winnipeg, Mr. James Erwin Downey.

The consular agency in Winnipeg will join the Consulates General in Toronto, Montreal and Vancouver, career consulates in Calgary and Leamington, and the consular section of the Embassy in Ottawa, consolidating Canada as the second country with the most consular offices of Mexico in the world, following only the United States.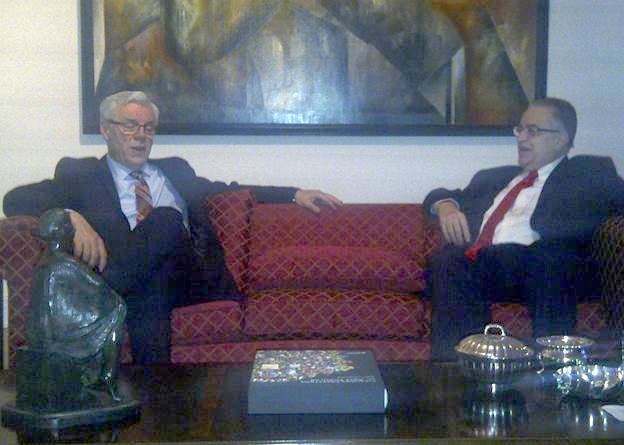 The Ambassador of Mexico, Francisco Suárez Dávila,
and the Premier of Manitoba, Greg Selinger.