Press Release
Embassy of Mexico

Ottawa, Canada, March 12, 2014
The Ambassador of Mexico to Canada, Francisco Suárez Dávila, officials from the Secretariat of Agriculture, Livestock, Rural Development, Fisheries and Food (SAGARPA) and the President of the CRFA Show (Canadian Restaurant and Foodservices Association), Garth Whyte, inaugurated the Mexico Pavilion at the annual foodservice event held in the city of Toronto from March 2 to 4, 2014. Mexico's participation was led by SAGARPA's International Affairs Coordinating Office and the Agricultural Office of Mexico in Canada.

The CRFA Show has grown steadily since 1944, renowned for being one of Canada's most important forums for doing business among suppliers to the restaurant industry. This market has a total of 80,800 establishments, including bars, restaurants, nightclubs and cafeterias. The Show welcomes roughly 12,000 visitors, and features over 2,200 producers exhibiting their wares.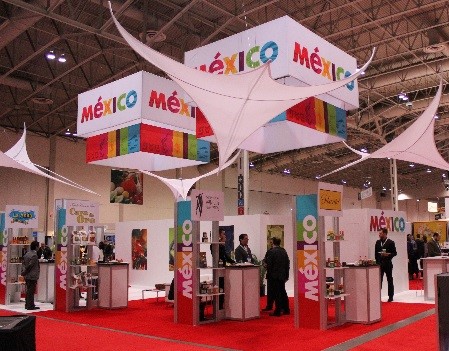 At the Mexico Pavilion 14 companies participated with various products such as jams, gourmet salsas, dried chili peppers, amaranth, chia, vanilla, agave nectar, pickled green beans, traditional pot coffee, sotol, and more. Participation in the event enabled Mexican producers to learn about the latest ideas in product innovation and culinary trends, promote their products, and interact with key contacts and potential buyers from Canada's food industry.

The 14 Mexican producers that attended the Show forged ties with prospective buyers, which will yield an increase in sales for Mexican companies. Highlights include a vanilla extract producer who, based on his participation in the Show, will see his products on shelves in food outlets in Montreal, as well as a recently formed business whose first exports of dried chili peppers will be to Canada.