Details

Category: March 2014
Hits: 1352

SIAL CANADA, the International Food & Beverage Tradeshow, is one of North America's largest events for the food sector, where innovation, creativity and high quality meet.
It aims to provide the world's producers with the opportunity to exchange ideas and learn all about innovation and the latest trends in the food industry. It also allows for closer trade ties with other nations. It is an ideal showcase for producers and a meeting point for business leaders from around the world.
The fair is a forum for presenting the latest industry trends, discussing new challenges facing the sector, and learning about consumer preferences. It also constitutes a unique opportunity to identify new buyers or distributors in the North American market.

ProMéxico will be participating with a national pavilion of 10 spaces made up of 10 companies in the food and beverage sector. This event will take place on Wednesday, April 2 at 11:00 a.m. at the Palais de Congres in Montreal, Canada.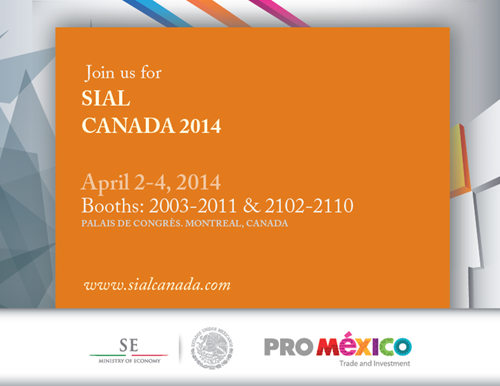 Details

Category: March 2014
Hits: 1830
Press Release
Embassy of Mexico

Ottawa, Canada, March 12, 2014
The Ambassador of Mexico to Canada, Francisco Suárez Dávila, officials from the Secretariat of Agriculture, Livestock, Rural Development, Fisheries and Food (SAGARPA) and the President of the CRFA Show (Canadian Restaurant and Foodservices Association), Garth Whyte, inaugurated the Mexico Pavilion at the annual foodservice event held in the city of Toronto from March 2 to 4, 2014. Mexico's participation was led by SAGARPA's International Affairs Coordinating Office and the Agricultural Office of Mexico in Canada.

The CRFA Show has grown steadily since 1944, renowned for being one of Canada's most important forums for doing business among suppliers to the restaurant industry. This market has a total of 80,800 establishments, including bars, restaurants, nightclubs and cafeterias. The Show welcomes roughly 12,000 visitors, and features over 2,200 producers exhibiting their wares.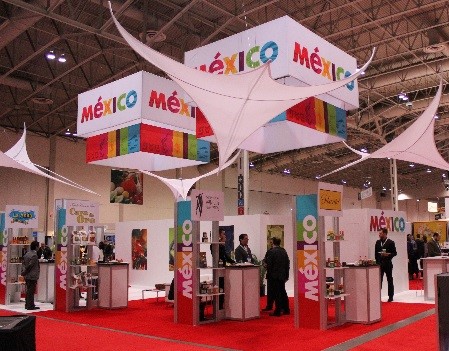 At the Mexico Pavilion 14 companies participated with various products such as jams, gourmet salsas, dried chili peppers, amaranth, chia, vanilla, agave nectar, pickled green beans, traditional pot coffee, sotol, and more. Participation in the event enabled Mexican producers to learn about the latest ideas in product innovation and culinary trends, promote their products, and interact with key contacts and potential buyers from Canada's food industry.

The 14 Mexican producers that attended the Show forged ties with prospective buyers, which will yield an increase in sales for Mexican companies. Highlights include a vanilla extract producer who, based on his participation in the Show, will see his products on shelves in food outlets in Montreal, as well as a recently formed business whose first exports of dried chili peppers will be to Canada.


Details

Category: March 2014
Hits: 4070
For the ninth consecutive year, Mexico welcomed a record number of Canadian tourists during 2013, with the number of visitors totaling 1,599,409. Mexico has now become the world's tourist destination most visited by Canadians after the U.S.

According to the Mexican Tourism Board's (CPTM) Integrated System of Tourism Markets, last year the five most visited destinations by Canadians were: Cancun, Puerto Vallarta, Los Cabos, Mexico City and Mazatlan. Of note among these locations is Los Cabos, which saw significant growth in the number of Canadians who chose to visit, last year welcoming more than 150,000 Canadian travelers.

Globally Mexico was visited by 23.73 million tourists in 2013, which is the largest number in history. In addition to representing record figures for the country, consolidating it as a global tourist power, this figure is 1.4% higher than in 2012.

Among the countries with the highest number of tourists visiting Mexico, Canada ranks second only to the United States, which recorded an increase of 9% over 2012. Other countries that experienced significant growth in the flow of tourists were Colombia with 60%, Russia 40%, Peru 39%, China 27%, and Korea with 26%.

For further information, visit the website http://www.visitmexico.com/.
Details

Category: March 2014
Hits: 1969
Press Release No. 025 /14
Mexico City, February 24, 2014
As part of his visit to Mexico, Canadian Minister Joe Oliver met with Secretary Guerra Abud
Mexican Secretary of the Environment and Natural Resources, Juan Jose Guerra Abud, met with Joe Oliver, Minister of Natural Resources Canada, who agreed to give continuity to cooperation agreements on forest fires and share experiences in environmental regulation.
Both officials acknowledged that bilateral cooperation has been instrumental in tackling forest fires to date, and considered that the recent signing of the MOU will help strengthen this collaboration.
The National Forestry Commission (CONAFOR) is responsible for Mexico's implementation of the agreement, which includes the creation of an Operational Plan for the sharing of personal information, technology, skills, training, research and innovation in order to improve skills and knowledge in the management of forest fires and to provide effective assistance.
Secretary Guerra and Minister Oliver also exchanged experiences in environmental regulation with the support of experts and through technical visits.
During the meeting, Guerra Abud highlighted the work Mexico has been done in the development of legislation and planning instruments in climate change, which is a source of learning for bilateral and regional cooperation.
Upon concluding the meeting, the officials reiterated their desire to promote an agenda of bilateral environmental cooperation that contributes to guiding the development of both countries towards green growth that is respectful of the natural environment.
The meeting was attended by Cuauhtémoc Fernández Ochoa, Undersecretary for Environmental Development and Regulation; Enrique Lendo, Head of International Affairs, George Rescala Pérez, Director General of CONAFOR, and Luis Fueyo MacDonald, National Commissioner of Protected Areas (CONANP).
Details

Category: March 2014
Hits: 1578
Ildefonso Guajardo Villarreal, Secretary of Economy, made a working visit to the city of Toronto, Canada, in which he will participate in the Mexico Mining Day event and will meet with Canadian executives of the mining industry, among other sectors.

The head of the Secretariat of Economy of Mexico will attend the inauguration of the Mexico Mining Day and will offer the keynote speech "Perspectives de Mexico and Mineral Wealth" before an audience of over 200 people made ??up of CEO's of mining companies, state government officials, Canadian Government authorities and Financial Institutions in the mining sector.

Later, he will tour the Expo Prospectors and Developers Association of Canada (PDAC), towards the stands of Canadian companies that have operations in Mexico or companies that could potentially be thinking about investing in Mexico. In addition, the Secretary will visit the stand of the General Coordination of Mining, where the Mexican Geological Survey exposes the services and investment projects to attract prospects to Mexico.

During his stay in Toronto, the Secretary will also attend a luncheon hosted by ProMéxico, where he will exchange points of view with CEOs of companies in the aerospace, automotive, mining, finance and agri-food sectors.

In this working visit, the Secretary Ildefonso Guajardo Villarreal will be accompanied by the Ambassador of Mexico to Canada, Francisco Suárez Dávila; the Consul General of our country in Toronto, Juan Mauricio Toussaint Ribot; the Representative of the Secretariat of Economy in Canada, Mario Rodríguez Montero; the General Coordinator of Mines of the Secretariat of Economy, Mario Alfonso Cantú Suárez and the Commercial Counselor of ProMéxico in Toronto, César Bueno Barba, among others.

In these events, the Canadian Ambassador to Mexico, Sara Hradecky will be present.