Details

Category: February 2014
Hits: 2426
21st Century North America: Building the Most Competitive and Dynamic Region in the World
We, the Leaders of North America, met today in Toluca, Mexico, to recognize the strength of our relationship and open a new chapter in our partnership. We are determined to promote inclusive broad-based economic growth for the wellbeing of our citizens, so that 21st century North America sets new global standards for trade, education, sustainable growth, and innovation. Our region is among the most competitive and dynamic in the world. We have a shared vision for its future, and a strong political, legal, and institutional framework to build upon.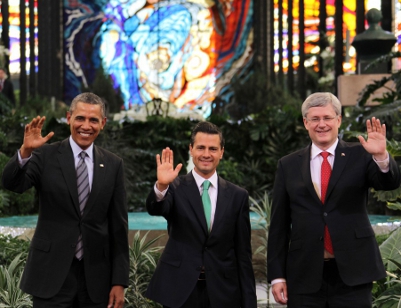 Our countries are established democracies and share values and aspirations. Countless contacts among our societies bring us together. We generate close to 30 percent of global goods and services. Our trade is at least 265 percent larger than twenty years ago, when the North American Free Trade Agreement came into force, and is now worth more than one trillion dollars per year, while investment within the region has been multiplied by six. Our three economies benefit from each other's stability and complementarities, and a shared commitment to creating good jobs and opportunities for all of our citizens. Private investment is increasingly directed towards North America, in recognition of the competitive advantage of our integrated production and supply chains, and our highly skilled workforce.

Shared and inclusive prosperity

Our engagement as a region with the rest of the world has a direct impact on the competitiveness of our economies and the prosperity of our societies. We will continue to work closely on matters related to international trade, so that our integrated supply chains are deepened and strengthened. We will jointly promote trade and investment in those sectors in which the integration of our production chains serves as a distinct global advantage, and work together to highlight those advantages.

Our governments are committed to developing a North American Competitiveness work plan, focused on investment, innovation and increased private sector engagement. We seek to set new standards for global trade through the prompt conclusion of a high standard, ambitious, and comprehensive Trans-Pacific Partnership, as we promote further trade liberalization in the Asia-Pacific region.
We will develop a North American Transportation Plan, beginning with a regional freight plan and building on existing initiatives. We will also streamline procedures and harmonize customs data requirements for traders and visitors. We will facilitate the movement of people through the establishment in 2014 of a North American Trusted Traveler Program, starting with the mutual recognition of the NEXUS, Global Entry, SENTRI and Viajero Confiable programs.

Our governments will leverage the existing bilateral border mechanisms to enhance the secure movement of goods across North America, and promote trilateral exchanges on logistics corridors and regional development. Our governments will designate observers to attend meetings of the border management executive committees already in place. This approach will also be followed within the existing bilateral processes on regulatory cooperation. We will continue to protect and enforce intellectual property rights.

New areas of opportunity

The future success and competitiveness of our region depends on our ability to foster innovation, provide our citizens access to high quality educational opportunities and to technology, and promote a workforce with the skills necessary for success in the 21st century global economy. To help guide these efforts, our governments will engage stakeholders and academics to better assess and plan for the needs of North America's future workforce. We will promote joint research in national laboratories and universities, building connections between North American businesses, particularly entrepreneurs, and technology accelerators. We will first focus on entrepreneurship and innovation exchanges, and actions to advance the economic empowerment of women. Authorities responsible for these efforts will meet in an informal working group to seek greater coordination and collaboration among them.

Academic exchange and educational mobility have long contributed to the mutual understanding of our societies and of the promise of North America. We commit to increase the number of student exchanges from within the region in our respective higher education systems, in line with the United States' 100,000 Strong in the Americas Initiative, Mexico's Proyecta 100,000, and Canada's International Education Strategy. We will explore opportunities for further cooperation in this area.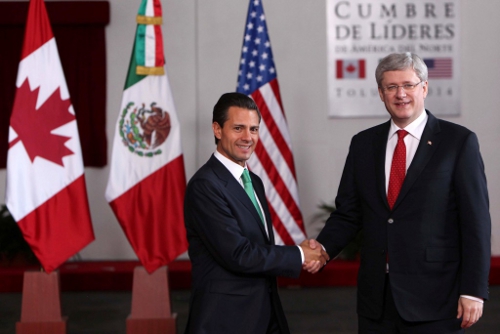 Energy is a trilateral priority. Developing and securing affordable, clean and reliable energy supplies can drive economic growth and support sustainable development, as we shift towards a low carbon energy future. To build on recent progress in this area, our Energy Ministers will meet later in 2014 to discuss opportunities to promote common strategies on energy efficiency, infrastructure, innovation, renewable energy, unconventional energy sources, energy trade, and responsible resource development, including the development of relevant technical studies.

Our countries will continue to work together to address climate change in pursuit of an ambitious and inclusive global agreement within the U.N. Framework Convention on Climate Change, while also collaborating through complementary mechanisms like the Major Economies Forum, the Climate and Clean Air Coalition, and the Energy and Climate Partnership of the Americas. In addition, we will intensify our efforts to promote an amendment to the Montreal Protocol to phase-down production and consumption of climate-damaging hydrofluorocarbons (HFCs).

We will continue to collaborate in the protection of our region's biodiversity and to address other environmental challenges, such as wildlife trafficking and ecosystems at risk. Our governments will establish a working group to ensure the conservation of the Monarch butterfly, a species that symbolizes our association.

Citizen security and global issues

We reaffirm our commitment to the principles of shared responsibility, mutual trust, and respect, in support of our domestic priorities, as we face together the challenges posed by transnational organized crime and other threats to the security of our citizens. As increasingly integrated neighbors, we recognize the need to collaborate effectively to counter global threats, such as international terrorism, and to protect our shared critical infrastructure.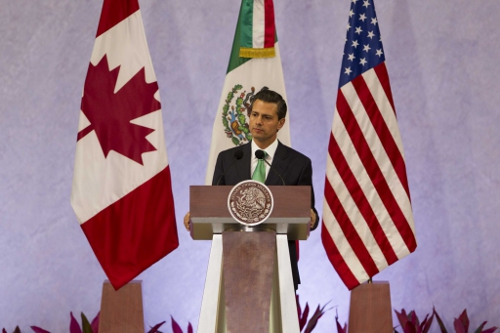 The effective exchange of information and coordination among law-enforcement authorities will remain essential. We will continue to coordinate and pursue new areas of cooperation to counter drug trafficking, arms trafficking and other illicit trade, consistent with our laws and constitutions. To more effectively counter money laundering and illicit financial flows while ensuring the efficient interconnection of our systems, our authorities will enhance their dialogue on financial sector regulation and supervision. Our governments share a commitment to combating human trafficking in all its forms and will work toward improving services for the victims of this crime.

To strengthen regional security, we will continue to cooperate with our partners in Central America and the Caribbean, and with other countries in the hemisphere to promote development, economic growth and citizen security. We will provide capacity building support, and seek closer collaboration on financial inclusion and social safety nets, among other areas. We will broaden the scope of our efforts by including actions on disaster risk prevention and insurance, wildfire management, and access to affordable and clean energy, and will promote sustainable social development.

North America's response to the H1N1 pandemic in 2009 remains an example of timely and effective cooperation. We will build upon the North American Plan for Animal and Pandemic Influenza (NAPAPI) to strengthen our preparedness and response to future public health events.

North America will continue to develop collective solutions to global challenges. Our three countries will increase our already robust cooperation across the United Nations and other multilateral bodies. We will engage in the definition of the post-2015 development agenda with an inclusive approach that addresses inequalities and seeks to ensure that global objectives are pursued according to national standards of accountability. We support the Open Government Partnership, and we are committed to transparency and open government across the world. We will also continue to promote democracy, human rights and the respect of international law throughout the world and in the Americas, consistent with the values enumerated in the Inter American Democratic Charter.

Delivering on our agenda


The success of this vision will hinge on its follow up. Our governments will carry out periodic consultations on the implementation of our agreements, reporting to leaders on the progress of our efforts before each upcoming North American Leaders' Summit. Our countries will also develop a new outreach mechanism in 2014, through which experts and stakeholders will be able to share their perspectives on our agenda and propose new lines of action.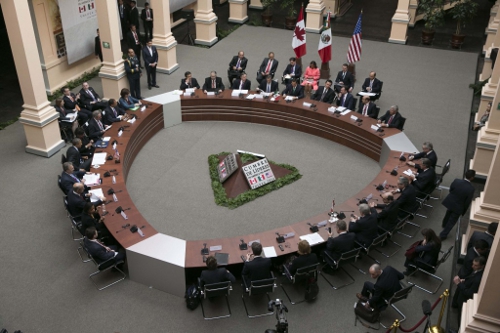 The collaboration between our governments, civil societies, academics, entrepreneurs, and other actors, has a direct and positive impact in the lives and wellbeing of our peoples. The future of North America is even more brilliant than its past and together we can make it the most competitive and dynamic region in the world.

President Obama and President Peña Nieto welcome Prime Minister Harper's offer for Canada to host the next North American Leaders' Summit in 2015.
Toluca, Mexico, February 19, 2014


Details

Category: February 2014
Hits: 3038
Canada-Mexico Joint Statement

At the invitation of President Enrique Peña Nieto, Prime Minister Stephen Harper made his first Official Visit to Mexico on February 17 - 18, 2014. The visit occurred in the context of the 70th anniversary of Canada-Mexico diplomatic relations, the 20th anniversary of the North American Free Trade Agreement, and the 10th anniversary of the Canada-Mexico Partnership.
At the invitation of President Enrique Peña Nieto, Prime Minister Stephen Harper made his first Official Visit to Mexico on February 17 - 18, 2014. The visit occurred in the context of the 70th anniversary of Canada-Mexico diplomatic relations, the 20th anniversary of the North American Free Trade Agreement, and the 10th anniversary of the Canada-Mexico Partnership.

The leaders reaffirmed the importance they attach to this strategic bilateral relationship, and agreed on ways to further advance the extensive diplomatic, commercial and people-to-people ties between the two countries. They also underlined their long-standing commitment to cooperate on regional and global issues, including in the ongoing Trans-Pacific Partnership negotiations, and in the context of the Pacific Alliance.  President Peña Nieto and Prime Minister Harper agreed to continue enhancing collaboration on shared priorities, with a focus on the economic relationship. They also agreed to consider mechanisms to engage in further dialogue.

The two leaders welcomed the signature of the Third Mexico-Canada Joint Action Plan, which outlines shared bilateral priorities, and lists follow up actions for the period from 2014 to 2016.  They committed to growing the bilateral trade and investment relationship and, in this regard, were pleased to note that bilateral merchandise trade has grown more than six-fold since the North American Free Trade Agreement took effect in 1994, amounting to more than $31 billion in 2012.  In light of Mexico's recent structural reforms, they welcomed ongoing efforts to increase two-way investment flows.  Prime Minister Harper and President Peña Nieto agreed to encourage their private sectors to seize new opportunities in sectors such as energy, aerospace, automotive, mining and finance.

President Peña Nieto and Prime Minister Harper welcomed the conclusion of the Agreement on Air Transport between Mexico and Canada. This agreement is an important contribution to the promotion of significant business and tourism opportunities. They also welcomed  the Memorandum of Understanding on Cooperation in Export Credits concluded between Export Development Canada  (EDC) and the Mexican National Bank for Foreign Trade (Bancomext) to contribute to the development of new projects and to the exchange of experiences and best practices, and the Master Cooperation Agreement between these two institutions and major Canadian and Mexican banks, that will identify collaboration opportunities.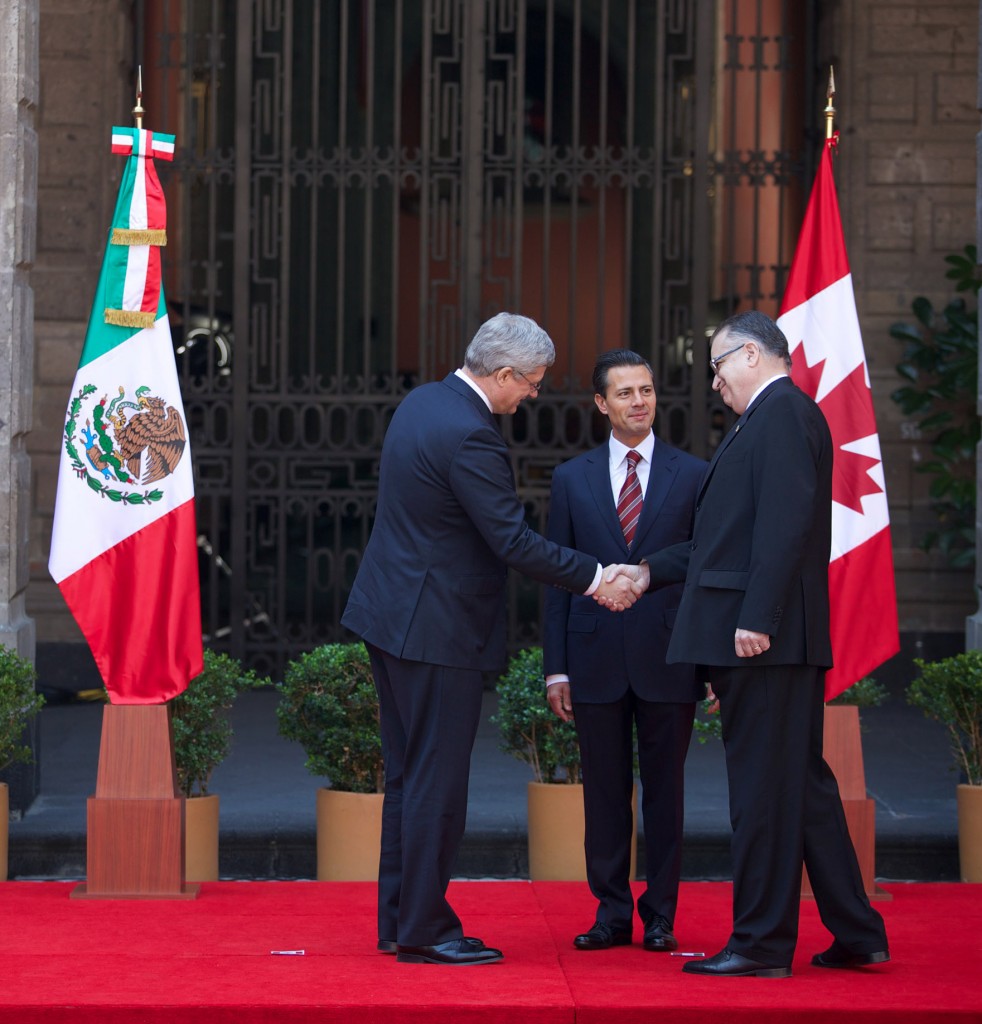 Prime Minister Harper and President Peña Nieto highlighted that cooperation on higher education and innovation is a powerful tool to strengthen the bilateral relationship in the short and long terms.  They expressed their support for collaboration between Canada's Mitacs Globalink Program, funded under Canada's International Education Strategy, and the Mexican Secretary of Public Education, to develop a jointly funded exchange program.  Over three years, the program will provide research internships for Canadian students in Mexico, and Mexican students in Canada.  
President Peña Nieto and Prime Minister Harper reiterated their commitment to joint security, justice and defence efforts, within established bilateral mechanisms and in full compliance with their respective domestic legal frameworks.  The two leaders expressed their support for the future signature of a Declaration of Intent on defence cooperation.

The two leaders reaffirmed their interest in working constructively together to address regional and global challenges, in issues such as the definition of the post-2015 Development Agenda. They took note of the Nationally Appropriate Mitigation Action carried out by PEMEX and the Department of Natural Resources Canada, as well as the signing of a Memorandum of Understanding on the Exchange of Resources for the Management of Forest Fires between the Canadian Forest Service and the Mexican Forest Commission. They highlighted the bilateral environmental cooperation underway between Environment Canada and Mexico's Ministry of the Environment and Natural Resources, including the Climate Change Cooperation Platform.

The leaders agreed on the importance of consular cooperation and support.  In this regard, they commended the work of the Canada-Mexico Rapid Response Group on Consular Matters, and its intent to include on its agenda the exchange of best practices on responses to emergencies and natural disasters abroad. The two leaders value Mexico's decision to establish a consular agency in the city of Winnipeg, which will serve the Mexican population living in the region, and will bolster the political dialogue and commercial exchanges between the province of Manitoba and Mexico.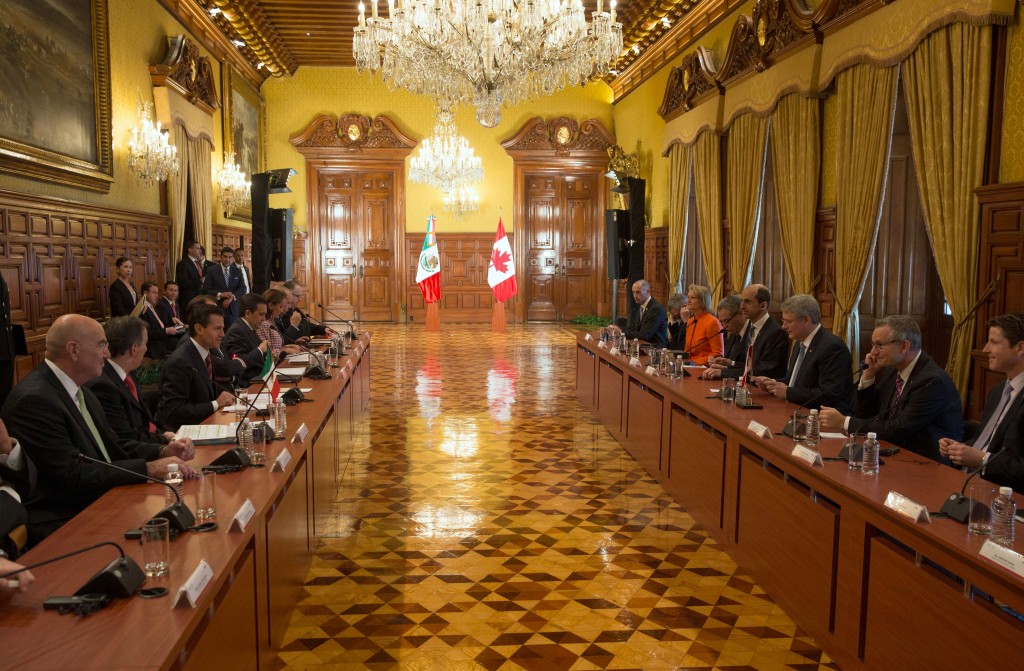 The leaders underlined their commitment to multilateral cooperation, including in the context of shared priorities in the Americas.  In this context, they committed to work closely together in the Organization of American States, among other issues to strengthen the Inter-American Democratic Charter and the Inter-American human rights system.  Canada and Mexico will foster a peaceful and prosperous region in Central America and the Caribbean, by contributing to the institutional strengthening of the region through triangular cooperation with the Central America Integration System (SICA).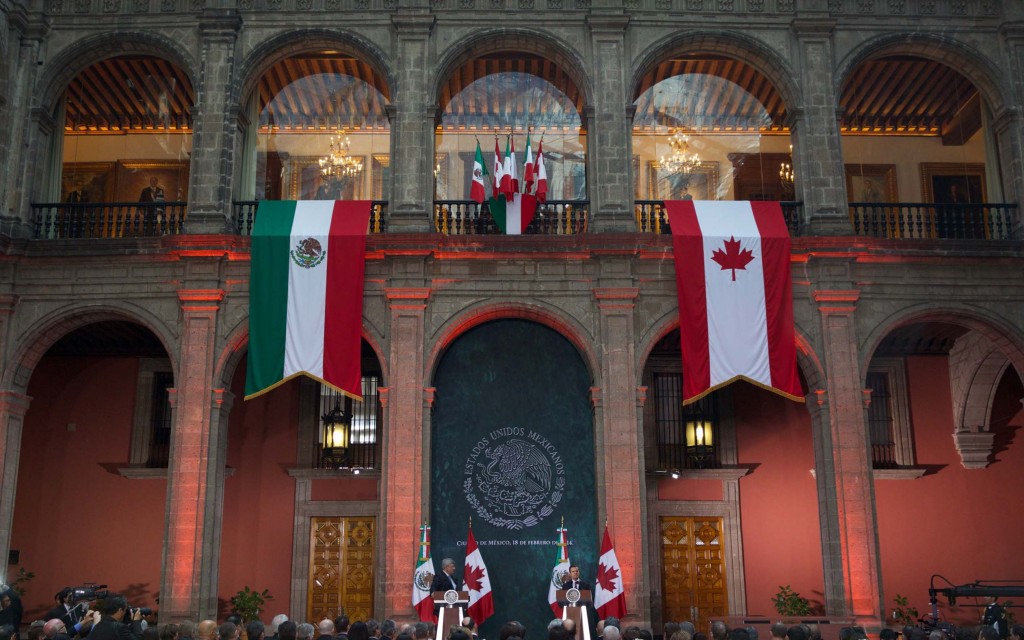 As a symbolic recognition of the 70th anniversary of the diplomatic relationship between Mexico and Canada, Prime Minister Harper welcomed the forthcoming restoration of the Canadian Totem Pole located in iconic Chapultepec Park. The Totem Pole, donated to Mexico by the Government of Canada in 1960 on the occasion of the 150th Anniversary of Mexico's Independence, will be restored in part through funding from the Canadian business community in Mexico.

Prime Minister Harper conveyed his hope that the Governor General and he can welcome President Peña Nieto to Canada later this year.  The invitation was duly accepted.
February 18, 2014
Details

Category: February 2014
Hits: 1547
Foreign Minister José Antonio Meade Kuribreña.- Good day, and thank you very much Claudia for the presentation. Many thanks to Jaime for having invited me.
Not the same the three Musketeers 20 years later, many of us Musketeers are here at the table that Jaime is now chairing. And thank you all for being here today, of course, thanks for inviting me to inaugurate this important forum.
The Mexican Council on Foreign Relations is undoubtedly, in this space of 20 years of remembrance, the ideal forum in which to reflect on how we are doing and where we should go as we move forward. It comprises a diverse, plural membership, a civil partnership that has shown by far the ability to bring together entrepreneurs, academics, diplomats and opinion leaders from various fields of our society to analyze the status and evolution of international issues of interest to our nation.
So it has done since its founding over 12 years ago under the capable leadership of its presidents, first Ambassador Andrés Rozental, then Fernando Solana, Enrique Berruga and now, brilliantly, Jaime Zabludovsky.
Of course each and every member of COMEXI, is an expert on various topics in various fields of international relations, and in part that's the secret of its success. Its publications, the growing involvement of partners in the media, and in general its contribution to creating a better understanding of the international reality and the current situation are tasks that we must acknowledge and for which we must thank COMEXI.
Mexico, 20 years after NAFTA, will continue progressing to build and revitalize the idea of ​​a dynamic and prosperous North America. That is why at the 20th anniversary of the entry into force of NAFTA, we should ask ourselves about both the achievements of and the challenges facing this treaty today.
And here the reasoning is simple: when many who are gathered here met over 20 years ago to start negotiating a treaty that took shape 20 years ago, the idea was bold.
Certainly there were three elements that indicated that the treaty could have spaces for serious success. There was of course a geographical reality; North America as a geographic space is an important space, due to the sizeable percentage of terra firma involved, the percentage of the world's coastlines, its variety and the importance of its natural resources, and so on.
It was a sizeable population, sizeable if you added the United States, Mexico and Canada together, and also at that time we shared the value of free trade as a central axis of development policy.
But it was not a sure bet. In fact, as Jaime Serra once said and Jaime Zabludovsky recalled today, when the idea first came up at the table, the idea that in international trade it would be worth making an effort to integrate Canada, the United States and Mexico, many thought it would be best to concentrate efforts in multilateral spaces, and conclude and give greater impetus to the Uruguay Round.
Bob Pastor thought then that the concept of North America involved three countries jointly undertaking the task of designing a continental framework, a genuine partnership that goes beyond rhetoric to a clear definition of a community in North America.
We are far from this aspiration of the North American idea, but the Free Trade Agreement was a very important first step.
Looking back 20 years, that risk was taken, the bet was made and it entered into force. It has given very good results. Many of them were described eloquently by Jaime Zabludovsky but I'll recap a few: trade multiplied threefold, said Jaime, for the first time exceeding one trillion dollars last year. We have said in other forums, more than a million dollars traded each minute just with the U.S., two million dollars every minute when you integrate or look at North America as a whole.
But a trade that has very different characteristics than we could have imagined 20 years ago. A trade that has made Mexico and North America as a whole, one of the leading players in the field of supply chains of advanced industries. Today, a V8 Jeep has a fuselage that is made in Querétaro, engine made ​​in Canada and is assembled in the United States.
A vigorous trade in intermediate goods, which end up crossing our borders several times, and this explains in large part our advantage. Jaime Zabludovsky said: "Of every peso that is exported from Mexico, 40 cents are acquired, for example, in the United States."
When electrical or optical equipment is exported from Japan, only 3.3% benefits Mexico, the United States or Canada. When electronic goods are exported from Germany, only 2.6% benefits this region. In contrast, when electrical or optical goods are exported from Canada, 12% has North American content and when it's made in the United States, 20% of the added value is explained by and is generated in Mexico.
Today, a few days before holding the North American Leaders' Summit, it would seem much more obvious and much easier to sell the idea of ​​North America. However, we've found it difficult to get people to appreciate this concept, to assess it and invest in it. People turn, rightly, toward Asia. People are excited, and rightly so, by what is happening in Latin America, and within Latin America, in the Pacific Alliance.
But if we stop with 20 years of perspective, and see that 20 years ago we had geography, we had population and there was an ideal, the argument today in favour of North America is much clearer. If we focus only on the population, a population with different characteristics, we are not only a larger population in 2014, we will be much larger in 2050. But we see a dynamic population where Mexico brings youth to our North America, and the Hispanic population brings demographic dynamism to the United States and Canada. It is a much more skilled population, a population that has proven to have capabilities to succeed in global markets.
Our geography is also different. 20 years after signing the NAFTA, when people review the geography of North America, they find all investment oriented toward trade. They find a geography rich in roadways, rich in railways, abundant in ports, all designed to attract and foster value chains. A geography therefore implying a much greater future advantage as compared to the geography that we had 20 years ago.
But we have many more elements than were present 20 years ago: we have a sound financial system in the three countries; stable, sound macroeconomic policies in the three countries, and shared values, not only in free trade, a deeply committed democratic region with the rule of law, committed to human rights, a region with an energy profile, that we couldn't have imagined, not 20 years ago, not even 5.
If you take all these elements together, what was then a risk is today a must. The argument in favor of America makes much more sense today than it did 20 years ago.
I conclude by bearing witness to those who 20 years ago saw in North America a space to build the future. They took a risk, made a bet. That bet today has proven itself. It was successful and has been fundamental in changing the face of North America. And the elements we have today in front of us make the argument for a prosperous and dynamic North America even more current, efforts and ideas that we will seek to position at the North American Leaders' Summit in the days to come.
Thank you very much for having invited me.
Details

Category: February 2014
Hits: 1477

Mexico City, February 16, 2014
With this recognition, Federal Inspection (TIF) Establishments 431, 111, 120 and 105 in the states of Michoacán, Sinaloa, Baja California and Nuevo León, respectively, can immediately begin exporting beef to Canada.
The Canadian Food Inspection Agency (CFIA) has acknowledged the equivalence of the Mexican Veterinary Inspection System with respect to beef products, giving Mexican exporters access to the Canadian beef market.
CFIA's communiqué enables four of Mexico's Federal Inspection beef processing establishments to immediately export their products to Canada, reports the Secretariat of Agriculture, Livestock, Rural Development, Fisheries and Food (SAGARPA).
This recognition was a result of negotiations between the CFIA and the National Department of Food Health, Safety and Quality (SENASICA), and follows the audit conducted by Canadian authorities of the Mexican Veterinary Inspection System.
TIF establishments numbers 431, 111, 120 and 105 in the states of Michoacán, Sinaloa, Baja California and Nuevo León, respectively, can now begin exporting Mexican beef to Canada.
These establishments were inspected by Canadian health authority technicians, who were in Mexico to review the facilities at the plants, and the processes carried out there.
The Canadian technicians certified that the infrastructure meets the health and safety standards required by international markets, and were able to attest to SENASICA's ongoing verification and inspection performed by duly certified veterinarians and animal husbandry specialists.
Details

Category: February 2014
Hits: 1589
As part of the celebrations of the 70th Anniversary of Bilateral Relations between Mexico and Canada, the Embassy of Mexico has organized the production of an ice sculpture in Confederation Park for Winterlude, Canada's capital winter celebration,organized by Canadian Heritage.
The sculpture was conceptualized and produced by two talented and well renowned artists: Luis Castañeda from Chiapas and Jorge de Santiago from Puebla. They traveled to Ottawa to labour for five days on a work of art that is meant to symbolize our two countries' partnership. With the help and support of the Canadian Ice Carvers' Society, they created a 3-metre high sculpture out of 36 ice blocks. The sculpture will be on display in Confederation Park until February 17.
During the celebrations, Mexico will also present a DJ performance called "From Mexico with Love" on February 14 at 8:30pm on the main stage. TiniTun and Quecho are two young DJ's from Mexico City, pioneers of electronic music in Mexico. They will be playing house to techno music for Winterlude lovers.
Canada and Mexico are each other's third largest trading partner. They share common values and have very dynamic social interactions, whether through tourism, business, educational exchanges or other people-to-people contacts. Every day Mexico and Canada work to build a better and more prosperous North American region in benefit of their peoples.
Happy anniversary Mexico and Canada!