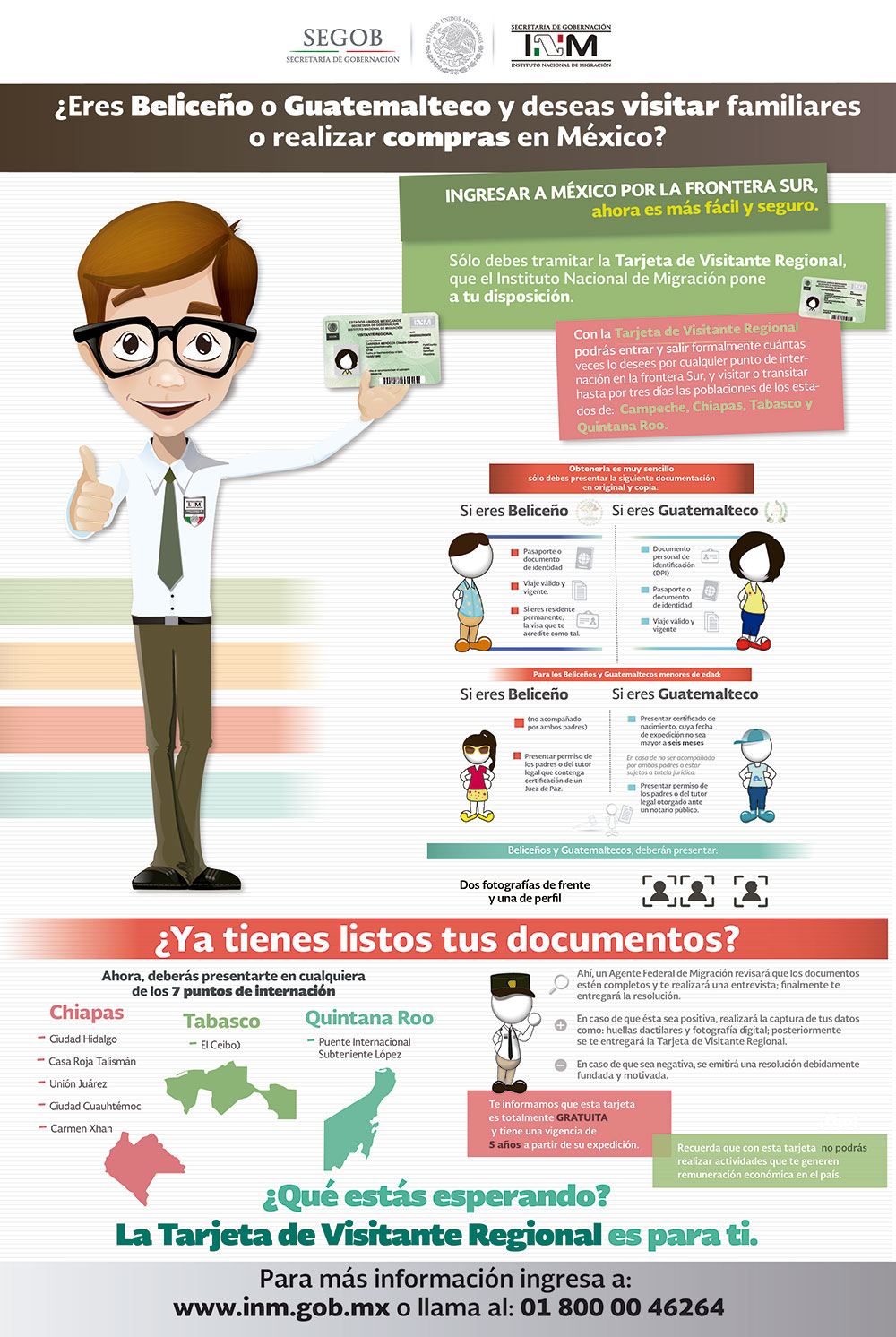 Mexican border card
TARJETA DE VISITANTE REGIONAL, TVR
(Formerly known as FMVL or Border Card)
Belizeans and permanent residents can apply for the border card exclusively at the Mexican immigration office (INM) at the border of Subteniente Lopez (Chetumal). Opening hours are Monday to Friday from 9:00 am to 1:00 pm. 

This card facilitates a faster and more expedite entry into Mexico and allows a stay of up to 3 consecutive days within the Mexican state of Quintana Roo, as well as the states of Campeche, Tabasco and Chiapas. Holders are exempt from paying any exit fee in Mexico. The card is free of cost and valid for 5 consecutive years.
Requirements:
To apply in person, including minors.

Valid Belizean passport + photocopy of the page which includes holder's information. 

Other nationals with a Belizean permanent residence can apply with the original + photocopy of their passport and the residence card or stamp + photocopy.

In the case of minors, they must be accompanied by both parents or the legal guardian. In their absence, parents will have to sign a written authorization certified by a Justice of the Peace + photocopy.
When renewing the TVR card, applicants will submit the same documentation plus the expired card.
Important notice:
Former FMVL cards are not longer accepted since 8 November 2013. Holders should apply for a Regional Visitor Card in replacement of the FMVL.

The replacement is free of cost. Holders will have to submit only their passport + photocopy and the original FMVL.

The Regional Visitor Card does not entitle the holder to work in Mexico.

The Regional Visitor Card or the former FMVL does not entitle to travel to other Mexican states such as Yucatan or Campeche.